FI Holdings' profits helped by Falklands increased activity and investments
Tuesday, June 9th 2015 - 07:28 UTC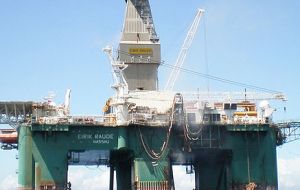 Falkland Islands Holdings PLC said on Monday that underlying pre-tax profit and revenue was broadly flat in its recently-ended financial year, and trading so far in the new year has met its expectations as it seeks to accelerate its growth and increase its scale through acquisitions.
The owner of services companies in the Falkland Islands and the UK reported a pre-tax profit of GBP3.9 million for the year to end-March, up from GBP3.4 million a year earlier, thanks to gains on the sale of shares in Falkland Oil & Gas Ltd.
Excluding that, pre-tax profit was GBP3.6 million, down a touch from GBP3.7 million a year earlier, even though revenue was a touch higher at GBP38.6 million from GBP38.3 million.
The company said pre-tax profit rose to GBP1.6 million from GBP1.1 million at its Falkland Islands Company business, buoyed by a record squid catch, higher demand for corporate rented houses, hire vehicles agency services and construction work, and increased activity due to the spring 2015 drilling programme.
That offset a decline in underlying operating profit at art transport and art storage business Momart to GBP1.2 million from GBP1.8 million, as revenue fell to GBP15.8 million from GBP18.3 million. It said this represented a more normal level of activity.
Revenue rose to GBP4.3 million from GBP4.1 million at the Portsmouth Harbour Ferry Company, where it has increased average ferry fares to cover increased operating costs associated with a new vessel.
The company sold 7.8 million shares in Falkland Oil & Gas in March for a GBP0.7 million profit, and in April sold the remaining 5 million shares it held for a GBP0.4 million profit.
"This has been a busy year for the Falkland Islands, and we anticipate further increases in activity in the Falkland Islands Company businesses, linked to the ongoing drilling campaign and further infrastructure investment by the Falkland Islands Government," Chairman Edmund Rowland said.
"I am also pleased to note the two oil discoveries offshore the islands, which goes further to prove up the area as a commercial oil province," he added.
The company's cash balance stood at GBP7.4 million at the end of the last financial year, up from GBP5.7 million a year earlier, while bank borrowings had fallen to GBP0.7 million from GBP1.0 million.
"Overall, Falkland Islands Holdings is in a strong financial position and we are in a favourable position to accelerate the group's growth through further investment in our existing businesses and strategic acquisitions, in line with our ongoing growth strategy," Rowland said.
Falkland Islands Holdings isn't paying a dividend as it reinvests its earnings and cash to accelerate the growth of the business.