Argentina comes to a halt as transport unions shut-down buses, trains, subways, air traffic
Wednesday, June 10th 2015 - 05:01 UTC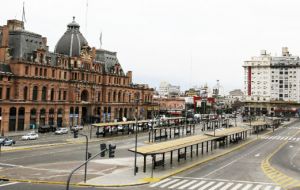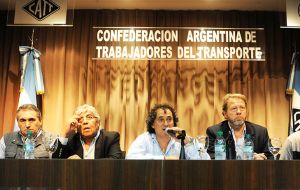 A strike by Argentine transport workers caused chaos for Buenos Aires commuters and forced airlines to cancel flights on Tuesday as the government accused unions of playing pre-election politics.
Unions set up road blocks at dawn on the main roads into the capital, as commuters carpooled or rented vehicles in an effort to get to work despite the 24-hour shut-down of the bus, train and subway systems.
Ports, garbage collection and fuel deliveries were also paralyzed. All domestic flights were cancelled for the day, as were some international flights, airport officials said.
"Airlines aren't operating. But since everyone knew about the strike beforehand, there aren't any passengers anyway," said a source at airport management company Aeropuertos Argentina 2000.
The strike, announced on May 12, is the second this year and the latest in a series launched by unions opposed to President Cristina Fernandez' government.
The three unions involved reject the government's bid to cap salary increases at 27%, complaining the figure does not keep pace with inflation forecast to come in at 30% this year.
They also oppose an income tax they say hurts the lowest earners because the threshold salary subjected to the tax has not been updated to keep pace with inflation.
Union leader Juan Carlos Schmid said the strike would send a "strong signal" to the government that takes power in December, after general elections on October 25 that will choose a successor to Cristina Fernandez.
The president's cabinet chief, Anibal Fernandez, called it a "political strike designed to generate confusion."
"They are obstructing people who want to go to work, the vast majority of the population," he said.
Several unions, including in the banking and commerce sectors, did not join the strike because they have recently signed new contracts. Banking and oil crushers unions managed 35%, but split into a basic 27% plus 'productivity' gains to complete the 35%.