Mercosur and Unasur member Venezuela bullying neighboring Guyana
Wednesday, June 10th 2015 - 21:16 UTC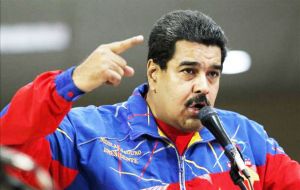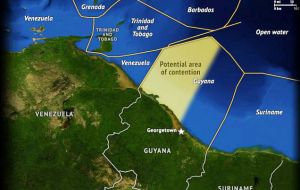 Mercosur and Unasur member Venezuela is again bullying neighboring Guyana by issuing a presidential decree claiming more than two-thirds of the former British colony territory including the maritime area where ExxonMobil recently found a significant oil deposit.
Guyana's Ministry of Foreign Affairs said the decree issued last month is a "flagrant violation of international law" and Guyana "rejects this illegality which seeks to undermine our efforts at development through the exploitation of our natural resources offshore".
"Any attempt by the Bolivarian Republic of Venezuela to apply that instrument in an extra-territorial manner will be vigorously resisted . . . In light of this Guyana will spare no effort in bringing to the attention of the international community this aggressive and illegal act by Venezuela," it said, adding that Maduro's decree is "inconsistent with the principle that all states should respect the sovereignty and territorial integrity of other states, large and small" and presents a threat to regional peace and security and breaches the Geneva Agreement of 1966.
"It is international law that must reign supreme and not the ambitions of a larger state which wishes to trample upon the rights of a smaller country in order to obstruct the sovereign right of Guyana to develop its natural resources."
The ministry pointed out that the boundary between Guyana and its larger neighbor was determined ages ago.
"The land boundary between Guyana and Venezuela which was defined by the Arbitral Award of 1899, is recognized by all states. Venezuela also recognized its border with Guyana as settled for over 60 years, having also participated in the demarcation of this established boundary which was completed in 1905," it said.
Guyana's main opposition People's Progressive Party Civic (PPP/C) has supported the government's position.
Maduro's decree was issued just days after American oil giant ExxonMobil announced it had found a "significant" amount of oil in the Stabroek Block, some 120 nautical miles offshore Guyana.
Venezuela had objected to the oil search, writing to ExxonMobil to warn that it would not accept the interference of a multinational company in the disputed territory.
The Guyana Chronicle newspaper reported that ExxonMobil's public relations officer Carlton James as saying that the company's contract with the Guyana government would not be affected by Venezuela's pronouncements.
The statement issued by the foreign ministry made it clear that Guyana had no intention of allowing Venezuela to stop its exploration, saying that the government would continue undeterred to access and develop its resources in line with the principles of international law.