Falkland Islands names US citizen in top job as Head of Policy
Friday, June 12th 2015 - 05:36 UTC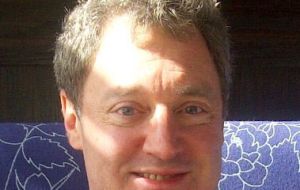 The Falkland Islands Government announced the appointment of John Shea as the new Head of Policy. Mr. Shea comes to the Islands from the United States, where he has served as President and Chief Executive Officer of the Sino-American Business Consortium, LLC.
Prior to his work with SABC, Mr. Shea spent over 20 years undertaking various roles with the New England Governor's Conference, Inc., covering issues such as conservation, the environment, energy and policy-making.
Of his appointment, Mr. Shea said, "I am very excited about assuming this challenging role and look forward to working with the Government and people of the Falkland Islands to continue building a sustainable and prosperous future for all the Islands' residents."
Chief Executive of the Falkland Islands Government, Keith Padgett, welcomed the appointment, "the Policy Unit holds a key role within the Falkland Islands Government, with a diverse range of projects and responsibilities. I look forward to working with John and the Policy Unit as they undertake this incredibly important work."
John Shea has a first degree from the University of Michigan and an MA from Harvard University. He arrives in the Islands in late June 2015 and succeeds Jamie Fotheringham who left the Policy Unit in April 2015.