Argentine union leader expelled from ILO meeting for stealing a tablet
Monday, June 15th 2015 - 05:37 UTC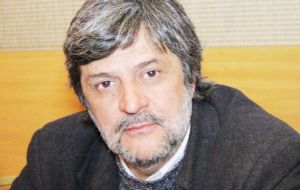 An Argentine trade unionist attending the International Labor Organization 104 Annual Assembly in Geneva was expelled from ILO and sent back to Argentina following on several cameras that caught him red-handed trying to steal the tablet of another member attending the meeting.
Guillermo Pacagnini is a member of the powerful CTA Autonomous Argentine umbrella union and chairman of the Health Professionals Association Union, Cicop.
According to media reports in Buenos Aires, Pacagnini is a doctor and kidney specialist who works at the Castex hospital in Buenos Aires and member of the Workers Socialist Movement, (MST), a party for which he was a hopeful governor of Buenos Aires province candidate in the coming national elections.
He was filmed by security cameras at the ILO Palace when he grabbed a briefcase, which belonged to the protocol chief of Panama's president, and which contained documents, papers and a tablet.
Members of the CTA delegation tried to talk the authorities into avoiding such an embarrassing situation, but the cameras were too evident and eloquent about Pacagnini's actions.
There were also efforts with the Swiss police to keep the incident at a low profile but it was finally decided to expel the Argentine delegate from the building and the ILO organization.
Pacagnini also faces further problems if the Panamanian delegation ratifies the claim before the Swiss courts.
Faced with the situation the whole CTA delegation decided to abandon the ILO convention and flew back to Argentina.