Brazil's auto industry faces plummeting sales and widespread layoffs
Tuesday, June 16th 2015 - 06:03 UTC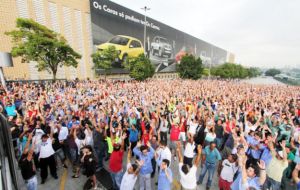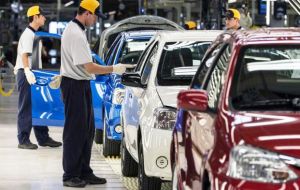 Plummeting auto sales in Brazil amid the country's worst economic situation in a decade have battered the industry that makes up one-fourth of the country's industrial gross domestic product and has led to widespread layoffs and mandatory leaves.

At least 6,000 workers in auto factories have been laid off since January, officials say, and another 20,000 put on furlough. Those add to thousands of jobs lost last year.

Additionally, Fenabrave, the association of auto dealers, said 250 of the country's 8,000 dealerships have gone out of business this year, resulting in 12,000 lost jobs.

Behind the worst situation in more than a decade for the world's fourth-largest auto market is the "uncertainty surrounding the country's sluggish economy, reduced access to credit and a drop in consumer confidence," said Rodrigo Baggi, an auto industry analyst at Sao Paulo's Tendencias Consultancy. "Purchases of nonessential durable goods like cars, motorcycles and electrical appliances are being postponed."

It's another sign of the serious trouble facing the Brazilian economy, which is forecast by most economists to contract by more than one percent this year, with consumer spending dwindling, unemployment hitting a five-year high and inflation soaring about two percentage points above the government's target ceiling of 6.5 percent.

The Brazilian Motor Vehicle Manufacturers Association estimates that vehicle production will drop to 2.6 million units in 2015, about 18% less than last year's output as a result of the lower demand, said the association's president, Luiz Moan.

That's a severe blow to automakers, who for a decade have enjoyed booming auto sales in Brazil and consider the nation vital to their overall bottom lines. Carmakers maintain a 10% profit margin in the country, as compared to the global average of about 3%. But it's also putting stress on a massive supply-chain industry that employs more than 200,000 people.

Moan said that during the last 12 months, roughly 10% of the automakers' labor force of 138,000 had been dismissed, many taking early retirements offered by auto companies trying to cut costs.