OAS and Haiti agree on electoral calendar and an observation mission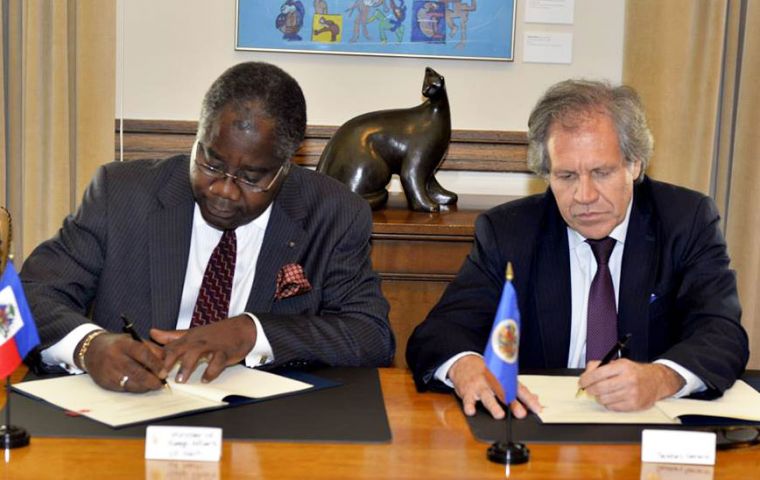 The Organization of American States (OAS) will send an Electoral Observation Mission to the presidential, legislative, municipal and local elections to be held in Haiti in 2015, according to the agreement signed on Tuesday by Secretary General Luis Almagro, and Haiti's Foreign minister, Lener Renauld.
Secretary General Almagro said that, despite the difficulties, the setting of the dates for the elections "is evidence of the democratic commitment of Haiti and this impels us to work closely to offer the maximum guarantees when ballot counting, and which lies at the very essence of democracy."
Foreign Minister Renauld said the signing of the agreement is an expression of the will of the President Michel Martelly, to accompany the work of the Provisional Electoral Council, the body responsible for organizing and carrying out the elections.
"I wish to recall that the government of Haiti supports and assists the Council, but does not intervene in its work. Therefore, the signing of this agreement again reaffirms the determination of President Martelly not to intervene in council affairs and decisions, and to support the electoral calendar", said Renauld.
The first round of legislative elections will take place August 9, and the first round of presidential and municipal and local elections on October 25. The second round of the presidential election is scheduled for December 27.
The agreement will help put an end to the ongoing controversy over the Haitian government's delay in complying with an elections calendar and which motivated complaints from several countries contributing with troops for the peacekeeping mission in the country.
These countries, among which Uruguay and Chile, had warned that unless elections were held in the near future, as part of the peacekeeping mission agreement, they were ready to withdraw their peace keeping forces.