OAS declaration in support of Malvinas UK/Argentina talks; Canada disagreed
Wednesday, June 17th 2015 - 05:30 UTC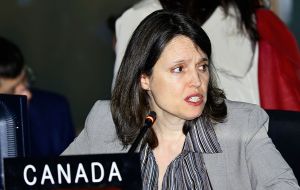 The Organization of American States, OAS, meeting in general assembly approved on Tuesday a declaration urging negotiations on the Falklands/Malvinas Islands dispute between Argentina and the United Kingdom.
The statement, a copy of previous documents calls on the need for both governments to "resume as soon as possible negotiations on the sovereignty dispute" to find a "peaceful solution" to the controversy.
"We know that through dialogue someday Argentina will recover its territorial integrity", said Argentine foreign minister Hector Timerman on thanking his fellow representatives at the 45th OAS General assembly held in Washington.
The document mentions the Malvinas Islands question as "an issue of standing hemispheric interest".
Of all the countries who took turns in supporting the motion's draft, only Canada was in disagreement. "The Canadian delegation does not wish to associate to the text" said Canadian official Jennifer Loten.
On presenting the document, Timerman said it was 'paradoxical' that Argentina and the UK have common positions in common issued such as climate change o reforming multilateral organizations, but on the Malvinas question, "it is not part of the political agenda".
Later in statements to the media in Washington, Timerman said it was most encouraging that the Argentine position on Malvinas "received the support from all countries in Latin America and the Caribbean".
The Argentine delegation to the OAS assembly included the head of Malvinas and South Atlantic Islands issues, a branch of the Foreign ministry, under former Senator Daniel Filmus.
Several of the delegations attending the OAS general assembly in support of Argentina recalled that since 1965, there are over forty United Nations resolutions and declarations calling for dialogue between Buenos Aires and London on the Malvinas question.
In 1982 the Argentine military invaded the Falklands and occupied them during 74 days until finally dislodged by a British Task Force sent to liberate the Islands. In 2013 the Falklands held a referendum on the future of the Islands and an overwhelming majority voted to continue as a British Overseas Territory.
Minister Timerman refers to the Falkland Islanders as a 'non people' since they were 'implanted' and thus with no rights to self determination, while president Cristina Fernandez refers to them as 'squatters' and calls the British 'usurpers'.
The Falkland Islanders can track their roots back to nine generations when Argentina was a chaotic post colonial entity (United Provinces) which included parts of modern Uruguay, Paraguay, Bolivia and Brazil.
The Argentine government under the Kirchner couple, Nestor and Cristina have imposed an aggressive campaign against the Falklands in international forums, and regionally have tried to strangle the Islands' economy by limiting trade and contacts with the continent.