Stiglitz comes to the rescue of Argentina and Greece on debt restructuring
Wednesday, June 17th 2015 - 05:46 UTC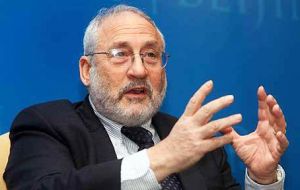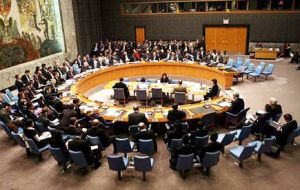 Nobel Prize-winning economist Joseph Stiglitz has reiterated his support for a wider system of control on international sovereign debt restructuring, citing the examples of Argentina, Greece and Ukraine to back up his assertion that the area needs more supervision to protect those involved.
"In Argentina, the authorities' battles with a small number of "investors" (so-called vulture funds) jeopardized an entire debt restructuring agreed to – voluntarily – by an overwhelming majority of the country's creditors," Stiglitz considered, in a column published today by The Guardian.
The economist has on numerous occasions defended Argentina as the nation continues its litigation against holdout investors, who demand 100% payment on bonds.
"Those who claim that the system works well frame cases like Argentina as exceptions. Most of the time, they claim, the system does a good job. What they mean, of course, is that weak countries usually knuckle under. But at what cost to their citizens?"
Stiglitz continues to assert that the US Treasury's belief that sovereign debt restructurings do not need to be under international law is "incredible". The column recognizes that full legal backing would be difficult, but proposes a new framework which would include a stay against litigation during restructuring negotiations - "thus limiting the scope for disruptive behavior by 'vulture funds'."
Such a framework was proposed by the Argentine government before the United Nations in 2014, after a victory for creditors in a lengthy legal battle which would oblige the nation to pay back in full those bondholders who did not enter restructuring. In September the UN General Assembly voted overwhelmingly in favor of creating a legal framework, with 124 votes for and just 11 against.
Other ideas mooted by the economist include preferential treatment for lenders willing to give to countries in restructuring; an agreement that no country can sign away its basic rights; and limits on how much a single government can bind its successors to the deals made.
"The crisis in Europe is just the latest example of the high costs – for creditors and debtors alike – entailed by the absence of an international rule of law for resolving sovereign-debt crises," Stiglitz argues, while adding that regulation of debt restructuring would have to take place away from organizations such as the International Monetary Fund ("too closely affiliated with creditors").
"Such crises will continue to occur. If globalization is to work for all countries, the rules of sovereign lending must change. The modest reforms we propose are the right place to start", concludes Stiglitz.