Falklands' makes its debut among Argentine fans in the America Cup
Thursday, June 18th 2015 - 06:02 UTC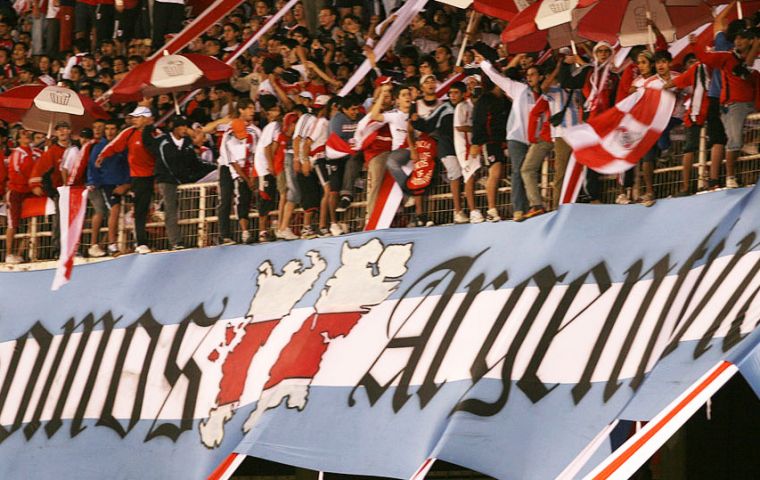 The America Copa (Cup) currently being played in Chile, and the region's national teams main football competition, has not been without incidents. The one that has attracted most headlines, so far, was the host's leading squad player, Arturo Vidal who went on public television to apologize for drunk driving after crashing his Ferrari.
He survived unscathed but not so his wife with light injuries or the 17 million Chileans and President Michelle Bachelet that have great hopes on the country's leading scorer. Apparently public opinion and the coach Jorge Sampaoli are prepared to give him another chance.
However it's the followers of the Argentine team, who are massively attending the competition in neighboring Chile that are now creating an uncomfortable situation for the host country, with a battle song allusive to the Falklands' conflict, Chile's stance at the time and obviously very confident about the strong blue-white striped team led by Messi and Kun Aguero.
The lyrics are partly copied from a previous one dedicated to Brazil, "Tell me Brazil, how does it feel", but this time adapted to the host country:
"Chile tell me, how does it feel to know the sea is coming towards you"
"I promise you it doesn't matter how much time goes by, we're never going to forget"
"Because you're chicken, a snitch and a whistleblower, you turned as in during the war because you're chicken"
"Don't you ever come back, hope the sea swallows you, go ask the English to help you swim"