Ecuador's Correa suspends controversial death duties debate until after Pope's visit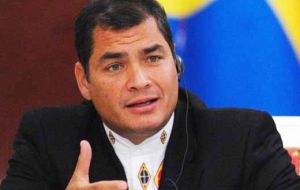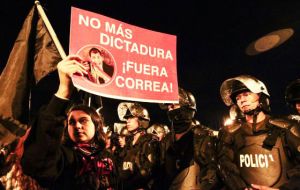 Ecuador's President Rafael Correa announced he would temporarily withdraw two controversial tax bills from the legislature, saying he would give the public time to debate them. The bills, which would have raised taxes on inheritances and capital gains, generated uproar that led to mass street protests in recent days.
Correa announced the move in a national broadcast: "we want debate, not shouting," he said. "We want arguments, not manipulations. All of this should have been done in the [National] Assembly, but it has been impossible with all the misinformation and violence generated."
The president added that he was holding back the bills temporarily to ensure Pope Francis's visit to the country, scheduled for July 6–8, goes smoothly. "In order to prevent these groups from provoking more violence, especially when we are aiming for a peaceful, joyful and reflective environment during Pope Francis' visit, I have decided to temporarily withdraw the bills mentioned," he said.
Protesters began taking to the streets last week over a set of bills installing a progressive tax system on inheritances of $35,400 or more. The lowest tax rate would stand at 2.5% and the highest at 47.5% for direct beneficiaries, such as spouses or children. The bills also set up higher tax rates for those who receive inheritances indirectly – through employee shares, for instance. The highest tax rate for indirect beneficiaries would stand at 77%.
The new system would have significantly boosted existing inheritance tax rates. Currently, Ecuador only taxes inheritances over $66,000, with a minimum tax rate of 5%. The highest rate is 35% for amounts over $796,000.
Correa had argued the new inheritance bills would only affect the richest Ecuadorians -- who he said comprise around 2 percent of the population -- and tackle wealth concentration and inequality in the country. But critics said the new system would punish economic success and family-owned businesses.
The system "could affect thousands of families in their quest to succeed," said Quito Mayor Mauricio Rodas. Opposition lawmakers called for street protests, and hundreds gathered in the cities of Quito, Guayaquil and Cuenca for several consecutive days last week to demand Correa's ouster and decry the bills.
Correa denounced the protests as attempts to destabilize his government. He had also said he would willingly repeal both measures if opposition groups could demonstrate they harmed middle-class and poor Ecuadorians. "The poor are poor due to an unjust, non-inclusive society that never shared opportunities," he said in his national address.