Venezuelan pickets stone and threaten visiting Brazilian senators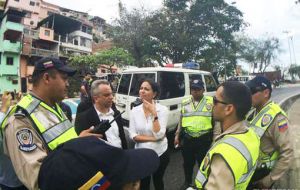 Brazilian senators seeking on Thursday to visit jailed opposition leaders in Venezuela said their minibus was stoned and blocked, forcing them to return to the airport. The group of opposition senators had planned to drive from the coastal airport of Maiquetía to the capital Caracas and then on to a military jail where hard-line opposition leader Leopoldo López has been for more than a year.
"Our bus was under siege: they were beating and trying to break it," tweeted one of the senators, Ronaldo Caiado. "I filmed them throwing stones against the bus."
Former presidential candidate Aecio Neves described the situation as an aggression saying the vehicle came "under siege" from "protesters".
"We remain committed to our aim of visiting Leopoldo López," he said. "We are here to defend democracy and until now the Venezuelan government has shown little appreciation of it."
There was no comment from Venezuelan officials.
Foreign support for opposition leaders is a sensitive issue for the government of President Nicolás Maduro who views them as US-backed agitators intent on fomenting a coup against him to end 16 years of Chavism in Venezuela.
López, 44, who has been on a partial hunger-strike for 25 days, was accused last year of stirring up violence around anti-government protests that killed more than 40 people, on both sides of the political divide.
Last week, Caracas chided Colombia for flying former Spanish Prime Minister Felipe González out on one of its military planes after he traveled to Venezuela to visit López and others.
Some former Latin American presidents have also been blocked from visiting López at the Ramo Verde military jail.
A Venezuelan opposition leader in the minibus with the visiting Brazilians said the delegation's route had been blocked by a protest and cleaning work in tunnels.
"In less than three hours, the Brazilian senators now know what it's like to live in the dictatorship of today in Venezuela," Maria Corina Machado added, saying the government had deliberately put up obstacles.
Another Brazilian senator, Aloysio Nunes, who is chairman of the Senate Foreign Relations Committee, said the group had been given two "lousy" justifications for the delays: the transportation of a criminal from Colombia and an accident.
Brazilian President Dilma Rousseff and her Workers' Party have faced increasing criticism for maintaining close ties to Maduro. Earlier this month, Brazil's Senate passed a resolution criticizing Maduro for arbitrarily imprisoning opponents.