Run off in Tierra del Fuego governor's election; despite freezing weather, 60% cast ballots
Monday, June 22nd 2015 - 07:15 UTC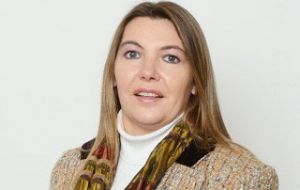 Results from Tierra del Fuego in the extreme south of Argentina put Victory Front senator Rosana Bertone on course for victory in Sunday's governor's election, although she will have to face a run-off with second-placed Federico Sciurano. With 82.8% of the vote counted Bertone led on 41.8%, followed by Sciurano of the radical-Popular Fueguino Movement coalition who took 33.7%.
Under Argentine electoral rules, the winner must have 50% of the vote plus one or 40% and a clear ten points difference with the runner up. If not there is a run-off.
This is the second time Bertone, who has a conflictive relationship with Kirchnerism, has ran for governor. In 2011, she was defeated by the current governor two consecutive mandates, Fabiana Ríos in the run-off.
Voters in Argentina's most southerly province braved heavy snows and near Antarctic temperatures to elect the new provincial governor, along with a number of other mayors, councilors and other national representatives. Voter turnout was close to 60%, local electoral authorities reported.
Earlier in the day exit polls were giving Bertone the advantage in the race for governor, though she refused to speculate before the official results had become known.
"I do not want futurology. Now we will hopefully see the results and then analyze them if they think it necessary.
"It is very important that we all come to vote, Fueguinos deserve a celebration of democracy," Bertone said, accompanied on the day by José "Pepe" Scioli, the brother the Buenos Aires province governor and presidential hopeful Daniel Scioli.
In related news, for the first time, Alejandro Betts (Alex Betts) 58, born in the Falklands and who in 1982 left the Islands to become an Argentine citizen, voted in the Tierra del Fuego provincial elections.
The Argentine ID with which Betts voted states he was born in "Puerto Argentino, Islas Malvinas, Tierra del Fuego e Islas del Atlántico Sur."
Betts was invited by the Tierra del Fuego electoral board to exercise his "constitutional right to vote."
Betts received his Argentine ID during a ceremony held by the Argentine embassy in New York, after he participated as speaker during an Argentine petition for decolonization of the Malvinas Islands, before the United Nations.
The official report says he left the Falklands and became a pro-Argentine activist after studying the history of the Malvinas. However in the Falklands the story is more mundane: he fell in love with an Argentine lady and at the end of the war abandoned the Falklands leaving behind her legitimate wife and family.