UK debate on EU gets nasty: business lobby ready to support "No Thanks, We're Going Global"
Tuesday, June 23rd 2015 - 06:59 UTC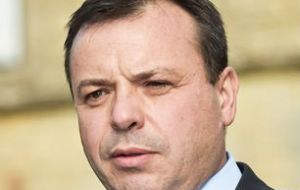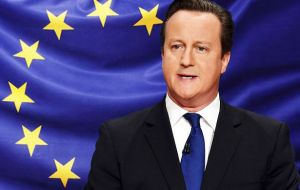 A group of British business leaders and entrepreneurs are preparing to launch a campaign for Britain to leave the European Union at a planned membership referendum, a major donor to the UK Independence Party said.
Prime Minister David Cameron has promised to renegotiate Britain's relationship with the EU ahead of a vote by the end of 2017, and is this week due to set out his reform plans in more detail at a summit of EU leaders in Brussels.
The group, which the Sunday Telegraph reported would be called "No Thanks — We're Going Global," is backed by UKIP donor Arron Banks and property investor Richard Tice. So far it has raised 7 million pounds (US$11 million) of a planned 20 million pounds.
"This is too important for politicians to be taking the lead, it has got to be business, and the wider public," Banks told the paper. "They can endorse it and support it but they will not be involved in the campaign."
Banks said the group, due to launch in September, had also been talking to sports stars and leading figures in medicine, science and the military about getting involved in the campaign. Lawmakers from Cameron's Conservatives and the opposition Labor Party have already formed two separate groups ready to campaign to leave the EU if the British leader does not succeed in his renegotiation efforts.
Cameron, re-elected for a second term last month, has spent the past few weeks meeting with EU leaders to discuss his plans ahead of Thursday's European Council summit. He has said he is confident of securing concessions and favors Britain remaining in a reformed union.
The changes he is seeking include boosting the bloc's economic competitiveness, protections for non-members of the euro zone, an opt-out from the EU's principle of ever-closer union, and tighter curbs on EU migrants' access to British welfare payments.
The Sunday Times reported that aides to Cameron had told Euro-skeptic Conservative lawmakers that his renegotiation plans go further than he has made public, including "rebranding" Britain as an associate or trading member of the bloc.