Conmebol with no access to funds to pay for prizes and teams' lodgings
Wednesday, June 24th 2015 - 07:35 UTC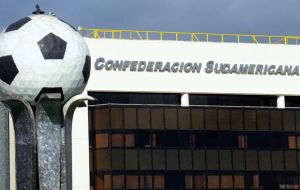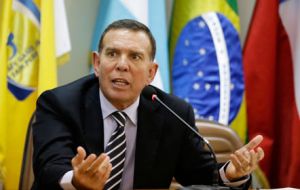 The current edition of the Americas Cup, the main football competition of South America organized every four years by the South American Football Confederation, Conmebol, and which this year is being hosted by Chile, apparently does not have the funds to pay for prizes and for the lodging of the twelve national teams involved.
Because of the ongoing FIFA's extended corruption investigation, the marketing companies with contracts over the Cup's rights have their bank accounts blocked, and thus Conmebol does not have access to those funds.
"Conmebol president Juan Angel Napout has serious problems in collecting the 10 million dollars needed for the Chile 2015 Americas Cup prizes plus the lodging expenses of the twelve participating national teams", according to Wilmar Valdez, head of the Uruguayan Football Association, AUF, and second to Napout at Conmebol.
Under contract terms, Conmebol must pay the winner of the Cup, four million dollars; three million to the runner up; two million and one million to the teams which make it to the third and fourth positions.
Valdez made the revelations to a Uruguayan sports daily, and described the Conmembol situation as "a significant crisis", however the Uruguayan delegate said that "president Napout is showing that he is a good storm pilot, he has things quite clear".
According to the US Justice department investigation, the Cup's marketing companies involved, DATISA, TyC, Traffic, Full Play have their bank accounts blocked. This means they can't receive the funds from the Americas Cup rights' contractors. To make things more complicated, the same promoters also have the rights over two of Conmebol main clubs' competitions: the Libertadores and Sudamericana cups.
Meanwhile in Paraguay, the country's Football Referees association, APF, announced it had decided to remove two of its members, Carlos Amarilla and Rodney Aquino, allegedly involved in 'match fixing', following on revelations from tapped phones in which their names surfaced.
In one of the conversations aired by a Buenos Aires television channel, former Argentine football strong man, head of AFA, Julio Grondona is heard talking with Abel Gnecco, the Argentine representative in Conmebol's Referees commission. They mention Amarilla as the 'best reinforcement' for Argentina's Boca Juniors in a match with the Brazilian Corinthians team, disputing the 2013 Libertadores Cup.