Malvinas-veteran new Army chief; former head resigns amid claims of human rights violations
Wednesday, June 24th 2015 - 06:58 UTC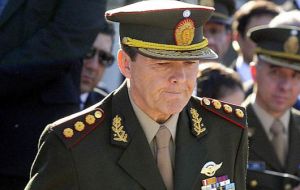 The head of Argentina's army, Major General Cesar Milani long accused of human rights violations, has resigned and will be replaced by General Ricardo Luis Cundom, a Malvinas conflict veteran.
A brief army statement issued on Tuesday says Maj. Gen. Cesar Milani submitted his resignation for 'strictly' personal reasons. An intelligence expert, Milani has been repeatedly accused of human rights violations and of having won President Cristina Fernandez favor by mounting a sophisticated 'spy' organization targeted on her political opponents and enemies.
The 60-year-old Milani has been charged in the disappearance of soldier Alberto Ledo in 1976 in the northern province of Tucuman and in 1977 with torturing two members of the same family in the northeastern province of La Rioja. The cases have yet to be tried in court. Milani denies the allegations, but in May a couple of witnesses surfaced, father and son, who pinpointed him as the interrogator at the Construction Engineers Battalion in La Rioja.
President Cristina Fernandez's decision in July 2013 to name him head of the army was sharply criticized by human rights groups. Thousands of people were killed or disappeared during Argentina's military dictatorship between 1976 and 1983. In the mid 1970s, Milani was a lieutenant and belonged to military intelligence.
The outgoing Milani is also being investigated in Congress for alleged 'illegitimate' enrichment, since his declared assets do not correspond to his earnings and benefits as a military officer.
Following the news of General Milani's retirement, President Cristina Fernández named Division General Ricardo Luis Cundom as the new chief of the Argentine Army. Cundom was operational head of Milani's Joint Chiefs of Staff. There was speculation that the Army's number two, General Gustavo Motta would succeed Milani, but Cundom was named.