Spain to question Gibraltar's exclusion from EU tax havens blacklist
Wednesday, June 24th 2015 - 07:09 UTC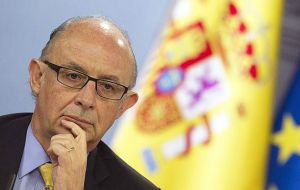 Spain will call on the European Commission to include Gibraltar on the EU blacklist of tax havens published last week, it emerged over the weekend. The list names the 30 top tax havens as identified by EU countries, but Gibraltar is not on it. Only nine of the EU's 28 members - among them Spain - view the Rock as a harmful jurisdiction for taxation.
Gibraltar's exclusion from the list has rankled with the Spanish Government, whose treasury minister, Cristobal Montoro, said Spain has "more than sufficient reason" to view the Rock as a tax haven.
Spain is also angry that the list includes Andorra, a jurisdiction with which it has signed information exchange and double taxation agreements and which it no longer regards as a tax haven.
"We will address the Commission to clarify these issues," Montoro reportedly said.
Last week the EU blacklisted 30 territories as the world's worst tax havens of which fourteen Caribbean countries, mostly British Overseas Territories: Antigua and Barbuda, Bahamas, Barbados, Belize, Bermuda, Grenada, St. Vincent and the Grenadines, St. Kitts and Nevis, and the British Overseas Territories of Anguilla, Bermuda, British Virgin Islands, Cayman Islands, Montserrat, and the Turks and Caicos Islands.
Each of those countries, and the other 16 on the blacklist, had been suggested by at least 10 EU member states as problematic because they were not doing enough to crack down on tax avoidance.