Argentina's new Army chief flew helicopters during Falklands/Malvinas conflict
Thursday, June 25th 2015 - 07:55 UTC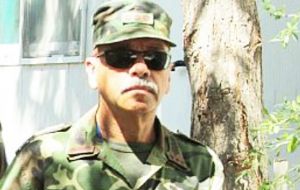 Argentina's new Army chief, Division General Ricardo Luis Cundom, 59, is a Malvinas war veteran and although originally from the Infantry he commanded the Army's air wing and has received commando and parachutist training, according to the reports in Buenos Aires.
Born in Cordoba he belongs to the Army's 108 promotion and was awarded the Malvinas Combatant medal by the Argentine Congress and distinguished for his services as member of the Army's air wing with the "Armed conflict campaign with the UK for the recovery of the Malvinas, South Georgia and South Sandwich islands".
He has been an officer belonging to the Joint Forces chief of staff and has been licensed in Strategy and Organization. General Cundom CV also mentions awards from the Army's air wing; the Defense Secretariat; Naval distinction from the Mexican navy and as a young officer was part of the Army air wing command and belonged to the Army air combat battalion 601.
One of his last operational duties, apparently complied with no inconveniences was Argentina's 2014/15 Antarctic campaign and logistics support, contrary to previous experiences which were plagued with lack of equipment, breakdowns, over costs and even graft.
The Argentine ministry of Defense pointed out that Cundom was second in rank to outgoing Mayor General Cesar Gerardo Milani, thus his nomination, even when the post of number two in the Army is occupied by Division General Gustavo Motta.
Milani an intelligence expert with pending trials on human rights violations and on questioned sworn statements regarding his declared assets, was very close to 'ever suspicious' president Cristina Fernández who apparently had great trust in him precisely because of his 'spy' organization capabilities.
However Cundom is said to be totally professional and with little interest in politics since he is committed to the Army's air wing.
According to Malvinas veterans site, Cundom as a young Lieutenant was piloting an Army Bell UH-1U AE-412 helicopter and when he landed in Stanly on 12 June fuel deposits were blown up by incoming mortar fire. He saved his life miraculously although the chopper was hit with shrapnel and had to be abandoned.
A second helicopter that flew in with Cundom was blown to pieces.