Brazilian central bank inflation estimates anticipate increase in interest rates
Thursday, June 25th 2015 - 07:33 UTC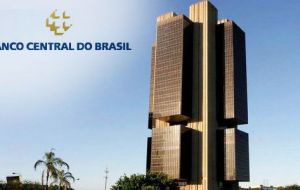 The Brazilian Central Bank on Wednesday raised its inflation estimate for 2015 to 9%, or almost double the midpoint in the official range and well above the 6.5% top end target, and said the economy may contract by 1.1% this year, marking the worst performance since 1990.
The quarterly Central Bank report estimated that the inflation rate would be 4.8% in 2016, a figure closer to the midpoint in the official range and below the 4.9% projected in the previous report.
The first-quarter projections called for an inflation rate of 7.9% and a drop in the GDP of 0.50%.
The Central Bank's Monetary Policy Committee will meet in late July to adjust the benchmark interest rate, currently at 13.75%, as the financial markets push for a halt in the interest rate hikes that officials justified as a tool for fighting inflation.
"The ongoing macroeconomic adjustment process, necessary and essential to consolidate the fundamentals favoring a convergence of inflation with the goal for late 2016, is associated with the consequences of non-economic events that have had a negative impact on short-term dynamics," the Central Bank