Guyana gives assurances to Exxon to keep exploring for oil, despite Venezuela's threats
Thursday, June 25th 2015 - 07:22 UTC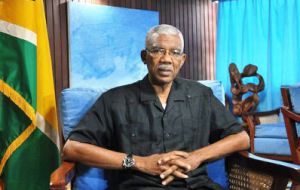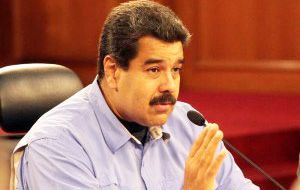 Venezuela's recent claim on Guyana's maritime territory is a "legal absurdity" and US oil firm ExxonMobil will continue to work as scheduled, President David Granger has said. Labeling Caracas' claim as the worst intrusion the country has ever had on its sovereignty, the President said his government has made its position on the claim by Venezuela clear to the oil company.
Granger said that the oil company has nothing to fear since it is operating in Guyana's exclusive economic zone and it has the weight of international law behind it. He did not reveal what work ExxonMobil will undertake in the future.
"It is a legal absurdity for Venezuela to claim such a large portion of Guyanese territory including the coastline and to use that bogus claim to claim more sea space," the president declared.
He recalled that in 1968, then Venezuelan President Raúl Leoni had purported to issue a similar decree annexing part of Guyana's sea space but President Nicholas Maduro has gone even further.
"It is an affront to the nation and it collides with international law, international maritime law. It is completely in breach of (the) United Nations Convention on the Law of the Sea," Granger asserted.
On May 26th, Maduro issued a Decree annexing maritime zones belonging to Guyana. The Decree was published in the Gazette in Venezuela on May 27th. Georgetown has said that the Decree of May 26th was a "baseless and shameless" bid to usurp Guyana's territory and a "flagrant violation" of international law.
Guyana Minister of Foreign Affairs Carl Greenidge told Parliament that a definitive solution must be found and signaled that the government would be moving for a juridical settlement of the border controversy.
Questions have been raised over the motives behind the decree and observers point out that it comes just after ExxonMobil announced what could be the first major oil find in Guyana's waters. Maps issued by Caracas show the ExxonMobil well site within the zone now being claimed.
While CARICOM has remained silent on this issue, President Granger anticipated that he would be attending the next Heads of Government meeting in Barbados on July 1st where the matter would be raised.
He said that CARICOM has been notified and he is confident that Secretary General Irwin LaRocque has provided some information to the heads of government.
Questioned on whether a formal approach has been made to the United Nations Secretary General to begin a process for a judicial resolution of the issue, Granger said that this has not yet been done but emphasized that an approach would be made.
He, pointed out that government has contacted the Organization of American States (OAS), the Union of South American Nations (UNASUR) and has also written to the heads of state of all of the South American countries on the matter.