Ambassador Castro hosts social promotion activity of probably Argentina's next First Lady
Saturday, June 27th 2015 - 07:44 UTC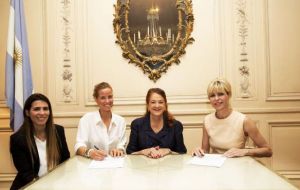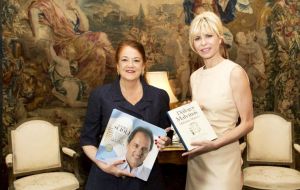 The president of the Argentine Banco Provincia foundation, Karina Rabolini, signed on Friday at the Embassy of Argentina in the United Kingdom a cooperation agreement with "Walkabout Foundation", a non-profit organization that focuses on funding research to find a cure for paralysis and donating wheelchairs to people in need around the world.
"We are grateful to Ambassador Alicia Castro for being our hostess for the signing of an agreement that will help many Argentines" said Rabolini, accompanied by Ambassador Castro, the manager of the Banco Provincia Foundation, Soledad Peralta, and the founder of 'Walkabout', Carolina Gonzalez-Bunster.
"It is a pleasure and an honour to receive this delegation of Banco Provincia. To work for an agreement that has to do with solidarity and equality is very important" Castro stated.
"This is a message of dialogue and solidarity that transcends borders," added the Argentine diplomat.
Following the signature, Ambassador Castro hosted a lunch for the delegation at the Official Residence.
The Banco Provincia Foundation is a development tool that seeks the growth of different sectors of the province of Buenos Aires through the promotion of social inclusion activities in the fields of education, training and research in science, technology, art and culture.
Karina Rabolini could become Argentina's First Lady as of next December if her husband, and governor of the province of Buenos Aires, Daniel Scioli, wins the coming presidential election next October. Scioli is the incumbent candidate, virtually handpicked by president Cristina Fernandez.