Vatican signs first treaty with 'State of Palestine; supports two-state solution
Saturday, June 27th 2015 - 07:25 UTC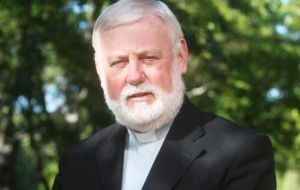 The Vatican signed on Friday its first treaty with the "State of Palestine", calling for "courageous decisions" to end the Israeli-Palestinian conflict with a two-state solution. The treaty concerned the Catholic Church's activities in areas controlled by the Palestinian Authority.
The Israeli foreign ministry said it regretted the move, calling the signing of a treaty, which implies there is an official Palestinian state, "a hasty step (that) damages the prospects for advancing a peace agreement".
But Archbishop Paul Gallagher, the Vatican's foreign minister, said he hoped the agreement could be a "stimulus to bringing a definitive end to the long-standing Israeli-Palestinian conflict, which continues to cause suffering for both Parties".
He said he hoped that a peace process directly negotiated between Israelis and Palestinians could resume and lead to a two-state solution.
"This certainly requires courageous decisions, but it will also offer a major contribution to peace and stability in the region," he said.
The UN General Assembly adopted a resolution in 2012 recognizing Palestine as an observer non-member state. This was welcomed at the time by the Vatican, which has the same observer non-member status at the United Nations.
Since then the Vatican has de facto recognized a "State of Palestine" and Pope Francis referred to it by that name when he visited the Holy Land last year.
Meanwhile the United Nations Commission of Inquiry on the 2014 war in the Gaza Strip — taking pains to be evenhanded — found that both Israel and Palestinian militants were responsible for violations of international law that could amount to war crimes.
But each side interpreted the commission's long-awaited report according to its own version of the Middle East conflict.
In the 217-page report, submitted this week on Monday to the United Nations Human Rights Council, the two commissioners said the militants clearly wanted to sow terror among Israeli civilians, just as they said they could not find clear evidence of why Israel targeted residential buildings in Gaza late at night, risking mass civilian casualties.
The Commission of Inquiry's chairwoman, the American jurist Mary McGowan Davis, said at a Geneva news conference that the investigation had gathered testimony "in a scrupulously objective fashion."
Still, each side in the long-running conflict saw what it wanted in any such report: Israelis condemned it as further evidence of bias against them in the United Nations writ large, while Palestinians embraced it as further ballast in their bid to punish Israelis in the International Criminal Court — and the court of international public opinion. The final toll of the conflict was 2.100 Palestinian and 73 Israeli lives.