Argentina's economy picks up 1.1% during first quarter compared to a year ago
Sunday, June 28th 2015 - 10:22 UTC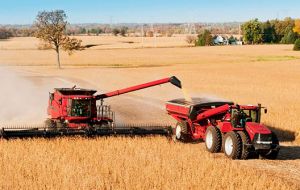 Argentina's GDP increased 1.1% during the first three months of 2015 compared to the same period last year, boosted by the domestic market and growths in the agricultural and construction sectors, the official Indec statistics bureau has revealed. This is the second quarter running that records an advance, following a drop in last year's third quarter.
April's activity also increased 1.7% compared to the same month a year ago. The good performance of farming has been decisive in the encouraging data despite the fall in commodities international prices.
In effect according to Argentina's Agriculture, Livestock and Fisheries Ministry, agricultural production will reach a record production of 116 million tons this year, with soy making up for half of the total increase.
Indec reported domestic market activity also increased significantly, with a 6.9% hike in supermarket sales in March, compared to the same month of 2014. Shopping center sales also increased, going up by 7.3% in March.
Meanwhile, construction works grew 6.9% in March, accumulating a 5.3% hike in the first three months of 2015.
Trade surplus increased by 43 million dollars, a 33% decrease compared to March 2014, while industrial activity also dropped: 1.9% in March compared to the same month last year.
On the other hand Argentina's current account during the first quarter of the year reported a deficit of 3.7bn dollars, of which 452m from the trade and services balance and 3.2bn from income, capital and foreign investments.
Likewise international reserves in Argentina's central bank increased 384 million dollars during the first three months of the year.