Brazil celebrates the opening of the US market for its fresh beef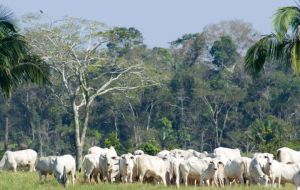 U.S. Department of Agriculture's Animal and Plant Health Inspection Service announced Monday that it is amending its regulations to allow imports of fresh (chilled or frozen) beef from (Argentina) and 14 states in Brazil. It's "the first step in a process for these regions to gain access to the U.S. market for beef", the APHIS said in a statement.
Fresh beef from both of these regions will follow the same import conditions imposed on fresh beef and ovine meat from Uruguay that we have been safely importing for many years, added APHIS.
Brazil's Minister of Agriculture, Katia Abreu, said the deal is an outcome of President Dilma Rousseff's political planning ahead of the meeting with President Barack Obama on Tuesday.
Brazil expects to able to export 100,000 tons of beef to the United States in the next five years. Abreu said the decision of the Obama administration is like "getting a pass code" to access other markets.
"We have to persistently insist on defending our agricultural products," she said, adding that the government wants Brazil to become one of the top five agricultural nations.
"This marks the end of a 15-year ban and will favor 95% of Brazil agro-business exports", pointed out minister Abreu who underlined that the US market access restrictions are taken as reference by many countries so this opening, "means a great signal for Brazil and its future cattle industry development".
Brazil has been exporting to the US processed beef, mainly for mincing, which in the first five months of this year represented 140m dollars. Total exports to the US last year from Brazil added to 230m dollars.
In a brief statement the White House said that the US and Brazil "are the world's largest agricultural producers and exporters, and we agreed to expand bilateral beef trade by undertaking science-based risk rulemaking in 2013.
The United States of Department of Agriculture is amending its regulations to allow the importation of fresh beef from Brazil under specific conditions that mitigate the risk of foot-and-mouth disease. Additionally, the United States and Brazil are working to ensure that any Brazilian meat imported into the United States for human consumption complies with U.S. public health and food safety regulations. Brazil is taking action to expand U.S. beef access in the near future".
Brazil's beef sales to the world in fifteen years have ballooned from 780m dollars in 2000 to 6.4bn dollars in 2014. According to US Department of Agriculture stats, this year global beef production should reach 59.5 million tons of which Brazil ranks only second (17%) to the US (19%). Regarding exports, Brazil last year was top of the list with 21% of sales, followed by India with 19%.
The cattle industry boom is Brazil is supported by 2.673.000 breeding farms, totaling 158 million hectares and creating seven million jobs in the beef industry.