Greece in IMF 'arrears'; it will default when it misses commercial payment
Wednesday, July 1st 2015 - 05:41 UTC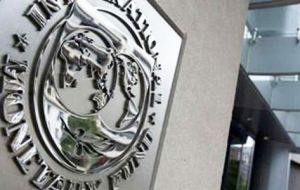 Greece on Tuesday became the first developed country to join a roster that includes some of the world's poorest and worst governed nations, including Iraq, Sudan, Somalia and Zimbabwe. Those are a few of the countries that have missed payments to the IMF as Greece did Tuesday, when it failed to make a loan payment of about 1.5 billion Euros, or $1.7 billion, to the fund.
IMF does not use the term default but places countries that miss their payments in so-called arrears. But the failure by Greece to meet its obligation to the fund will prompt other lenders to conclude that Greece has defaulted.
Those lenders include bond holders and the European Central Bank, which now may be less willing to continue emergency loans that have been propping up Greek banks for the past several months.
Credit rating agencies will not consider Greece to be in default based on missing the IMF payment, for the technical reason that the IMF is not considered a commercial borrower.
But the ratings agency Standard & Poor's said in a statement Tuesday that it would designate Greece as being in default if the country cannot make payments to private creditors, like €2 billion in Greek Treasury bills that are due on July 10.
And once found in arrears, Greece is barred from receiving any more money from the IMF until it settles the debt. That is a big problem, because the IMF has been a crucial partner with the European Union in dealing with Greece, providing not only money but financial and economic expertise.
The IMF confirmed that Greece had failed to make the payment, after a 6 p.m. Washington deadline came and went.
"I confirm that the SDR 1.2 billion repayment (about EUR 1.5 billion) due by Greece to the IMF today has not been received. We have informed our Executive Board that Greece is now in arrears and can only receive IMF financing once the arrears are cleared.
"I can also confirm that the IMF received a request today from the Greek authorities for an extension of Greece's repayment obligation that fell due today, which will go to the IMF's Executive Board in due course", said Gerry Rice, IMF Director of Communications.