Rousseff enjoys a day at 'Google-land' before returning to real life in Brazil
Friday, July 3rd 2015 - 09:04 UTC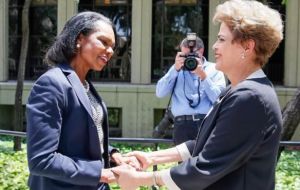 Brazil's President Dilma Rousseff capped off her U.S. tour on Wednesday with a visit to Silicon Valley, where she met with top technology executives and took a ride in Google Inc's self-driving car. Rousseff used her visit to strengthen ties with U.S. technology companies after visiting Washington, D.C. and New York City earlier in the week.
During her visit, Google announced it would inaugurate a new engineering space in Belo Horizonte in November that will more than double the number of engineers working in Brazil on some of the company's core products.
Rousseff began her day with a breakfast with University of California President Janet Napolitano, also the former U.S. secretary of homeland security. She then met with Google executive chairman Eric Schmidt, who showed off one of the company's self-driving cars before sending her on a test drive.
Her California visit coincided with a new low in her national polling numbers, following the massive corruption scandal at state-run oil firm Petrobras and an economy that is heading towards recession. The number of Brazilians considering Rousseff's government "great" or "good" dropped to just 9%, according to the Ibope opinion poll commissioned by the National Industry Confederation, or CNI.
At a press briefing at Google headquarters in Mountain View, California, Rousseff said her U.S. trip had been productive but declined to comment on her poll numbers.
Rousseff also attended a lunch with top Silicon Valley executives from Microsoft Corp, Apple Inc, Facebook Inc, Amazon Inc, Cisco Inc and PayPal. Brazil is the second-largest market by users after the United States for Google, Apple and Facebook.
Earlier in the week, Rousseff met with President Barack Obama, and agreed to a series of steps to ease trade. She said "things have changed" since October 2013, when she canceled an official state visit after revelations from former National Security Agency contractor Edward Snowden that the United States had spied on her.
Rousseff's five-day tour of the US began Saturday and included visits with business leaders and a meeting about investing in Brazilian infrastructure. In a press conference at the White House alongside President Obama Tuesday, she spoke largely about commerce, cooperation in defense, the sciences, and climate change.
Despite heading a so called 'progressive' government President Rousseff met with a number of conservatives that in the past may have created waves in Brazil. She met with Rupert Murdoch, the owner of conservative Fox News, Henry Kissinger, the cold war-era US secretary of State, and shared lunch with Condoleezza Rice, former president George W. Bush's national security adviser and secretary of State during the Iraq War.