Independent 'Peronists' keep control of Cordoba province, second largest electoral district
Monday, July 6th 2015 - 06:29 UTC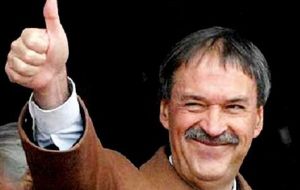 The governorship of Argentina' second largest electoral district, Córdoba province was won on Sunday by Juan Schiaretti, beating all other parties and coalitions with national representation, including the Victory Front of president Cristina Fernandez.
This will be the current lawmaker for the Union for Córdoba (UPC) party's second turn as governor, after his 2007/2011 mandate. Schiaretti's victory also guarantees the continuity of governor Juan Manuel de la Sota's influence in Córdoba and helps his ambition of joining a presidential ticket for next October.
"We have beaten the PRO party, the Radical party and Kirchnerism," UPC campaign leader Carlos Massei told reporters, announcing Schiaretti and running mate Martín Llaryora's win.
Later Schiaretti thanked De la Sota, and also President Cristina Fernández, Mauricio Macri, Daniel Scioli and Carlos Zannini for congratulating him on the win.
"We will not be tempted by authoritarianism," Schiaretti said form the UCP campaign headquarters in Córdoba, adding he will respect freedom of speech, division of powers and political opposition inside the Mediterranean province.
With vote counting almost over past midnight Schiaretti figured with 39.70% of the vote; runner up Oscar Aguad, 33.75% and Eduardo Accastello, 17.7%.
Seven candidates competed to govern the second largest electoral district in Argentina after Buenos Aires province, and which often has a mind of its own compared to the politics in the rest of Argentina.
Following 16 years of uninterrupted Radical Party (UCR) rule in the province after 1983, the UPC has managed the province since 1999, with de la Sota and Schiaretti alternating power.
The UPC is best described as dissident Peronism which on occasions has found common ground with more "orthodox" members of the Victory Front (FpV) such as Daniel Scioli.
In the most recent elections for governor in 2011, de la Sota easily won with 42.60% of the vote compared to Luis Juez with 29.58%. UCR candidate Oscar Aguad placed a close third, with 22.91%.
The Victory Front, FpV did not have a candidate of its own in Córdoba in 2011 but this year the Mayor of Villa María, Eduardo Accastello, hopped to make inroads in a province that has proven difficult to crack for the national government.
Buenos Aires Governor Daniel Scioli and Carlos Zannini — the sole remaining presidential tandem in the FpV fold — toured the province last week, giving their support to the mayor at a public rally.
In Córdoba the electorate also voted for the 70 seat provincial parliament and provisional data confirmed 34 for Schiaretti, 24 for Aguad and 8 for Accastello.