Presidential hopeful Macri celebrates his successor's victory in Buenos Aires City
Monday, July 6th 2015 - 06:57 UTC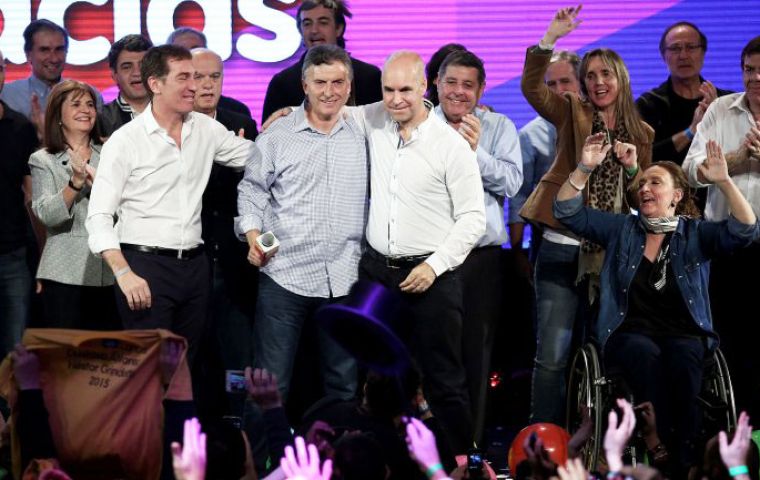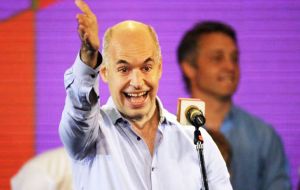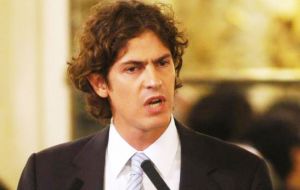 Saddled on eight years of Mauricio Macri as mayor of the city of Buenos Aires, his handpicked successor Horacio Rodriguez Larreta, won on Sunday Argentina's capital mayoral election, but not with the sufficient margin to avoid a run-off vote later this month. The winner needed to break the 50% mark in order to avoid the second round, which will take place July 19.
Nevertheless Rodriguez Larreta victory is also a great boost to Macri's aspirations to dispute the Argentine presidency with incumbent Daniel Scioli next October.
With almost 93% of votes counted, BA city Mayor Macri's chief of staff was winning the election with 45.62% of votes, followed by ECO's Lousteau. Former Economy Minister Martín Lousteau came in second with 25.6% of votes.
The third place was for Mariano Recalde, who heads state-controlled airline Aerolineas Argentinas and has been endorsed by President Cristina Fernández: he got 21.73% of votes.
Horacio Rodríguez Larreta, the Buenos Aires city Mayor candidate for the PRO party, thanked citizens, activists and leader and presidential hopeful Macri for their support in Sunday's election.
"I am glad to be celebrating with you all. We have a great team and I feel very happy, today is one of the most important days of my life," Rodriguez Larreta told supporters in the PRO party's campaign headquarters in Buenos Aires city.
Rodriguez Larreta and Lousteau will now face each other in a runoff to decide on the Mauricio Macri's successor.
The winner also stressed the success of the electronic voting system implemented in the city today, saying it is an example of the party's will to help the country "move forward".
"And I want to thank Mauricio Macri specially, who will be the next president of Argentina. We are doing well but we have still much to do. We have to remain close to the people, the citizens. We have to think forward and we have the challenge to take this experience in Buenos Aires to the whole country," he concluded.
Meanwhile runner up Martín Lousteau (ECO) thanked the Radical party and the Civic Coalition for their support in achieving a runoff against PRO's Rodríguez Larreta in mayoral elections.
"Thanks to activists, to the UCR, to the CC, to everyone for this chance," Lousteau said from ECO's campaign headquarters in Buenos Aires city.
Although PRO's Rodríguez Larreta won the election by a wide margin, it was not enough to avoid a runoff against former Economy Minister Lousteau. "Porteños have decided there will be a runoff… and with the runoff everybody will win. ECO is now the second most important political space in the city," Lousteau said.
"We will ask for more debates against Larreta. We will elevate debate in the city. We will discuss every point in which the city can be improved," concluded Lousteau.
With Sunday's results and previous outcomes, the ruling Victory Front of Cristina Fernandez has been beaten in four governorships of Argentina's main electoral circuits, City of Buenos Aires, Córdoba, Santa Fe and Mendoza. However the Victory Front leads comfortably in the largest and decisive circuit of Buenos Aires province.