Grexit Day next Sunday, Euro Zone members warn Tsipras
Wednesday, July 8th 2015 - 08:12 UTC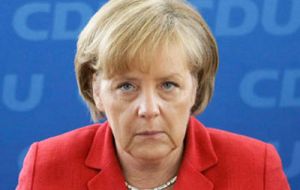 Euro zone members announced on Tuesday that they have given Greece until the end of the week to come up with a proposal for sweeping reforms in return for loans that will keep the country from crashing out of Europe's currency bloc and into economic ruin.
"The stark reality is that we have only five days left ... Until now I have avoided talking about deadlines, but tonight I have to say loud and clear that the final deadline ends this week," European Council President Donald Tusk told a news conference.
Prime Minister Alexis Tsipras has until Friday to present the proposal, but German Chancellor Angela Merkel said she hoped to have convincing reform commitments from Tsipras on Thursday so she could ask the German parliament to authorize negotiations on a new aid program.
Merkel said she was "not exaggeratedly optimistic" for a solution.
At an emergency summit in Brussels on Tuesday, representatives of the 19-country Euro zone said all 28 European Union leaders would meet on Sunday to decide Greece's fate. The talks were organized after Greeks voted in a referendum on Sunday against a bailout that carried stringent austerity measures.
French President Francois Hollande said the European Central Bank would ensure that Greek banks had the minimum necessary liquidity to stay afloat until Sunday.
The situation in Greece worsened with banks closed for a second week, limited cash withdrawals and businesses feeling the crunch of demands from vendors for cash payments.
Tsipras sounded upbeat as he left the summit, even though many of the reforms demanded by his partners would inflict more pain on Greeks who voted at his behest to reject the austerity measures in return for financial aid.
"The discussion took place in a positive climate," he said. "The process will be extremely fast. It starts in the coming hours, with the aim to conclude by the end of the week at the latest."
He promised to work for a socially just deal that would bring a "final exit" from the crisis, return Greece to growth and restructure Greek debt to make it viable.
However Euro zone finance ministers complained that their new Greek colleague Euclid Tsakalotos, while more courteous than his abrasive predecessor Yanis Varoufakis, had brought no new proposals to a preparatory meeting before the summit.
"I have the strong impression there were 18 ... ministers of finance who felt the urgency of the situation and there is one ... who doesn't feel the urgency of the situation," Belgian Finance Minister Johan Van Overtveldt said.