Falklands/Malvinas UN resolution 2065 remembered in Ushuaia
Saturday, July 11th 2015 - 07:53 UTC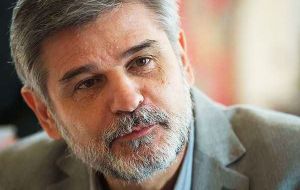 A group of lawmakers from six Latin American countries and Argentine officials met in Ushuaia in support of Argentine 'legitimate sovereignty rights over Malvinas, Georgia and South Sandwich Islands', in the framework of UN General Assembly Resolution 2065 fiftieth anniversary celebration, which called on the United Kingdom and Argentina to reach a peaceful negotiated solution over the Falklands/Malvinas dispute through bilateral discussions.
The meeting in Ushuaia was chaired by Daniel Filmus, head of Argentina's Malvinas Affairs Desk and convened representatives from the Central American parliament, Parlacen; the Latin American parliament, Parlatino and Mercosur parliament, Parlasur, plus a delegation of Argentine national and provincial officials.
"There's an international clamor for the UK to sit and dialogue over sovereignty. I'm greatly moved by the support received from all countries in the region, and we are particularly grateful from here, the capital city of the Malvinas Islands", Filmus told the audience, in reference to the fact that for Argentina, Tierra del Fuego includes the Falklands, other South Atlantic islands and Argentine Antarctic Territory. Tierra del Fuego's capital is Ushuaia.
Filmus added that "if we remain united, each of Latin America's causes will have a happy ending", and recalled Panama Canal negotiations and the current closer links between Cuba and the US.
"Colonialism is not forever. As our ambassador in London (Alicia Castro) likes to say, the Malvinas Islands recovery is a fact. Our job is to make it happen as soon as possible", underlined Filmus.
Tierra del Fuego governor Fabiana Ríos said that Argentina now feels it belongs to a region, as "the continent feels ever closer to the Malvinas cause. This Latin American stance is present here in Ushuaia today with your participation", and this makes us "feel closer to recovering Malvinas sovereignty".
Attending the event was also Alejandro Betts, born in the Falklands but who is now an ardent supporter of Argentina's claims over the Islands as an Argentine petitioner before the UN Decolonization Committee, C24.
"Leave aside the attacks from the media: we want to tell you Alex that there are millions of Argentines who support you", Filmus said addressing Betts.
A controversy has surfaced in the Argentine media when it was revealed that Betts, a civilian, receives a Malvinas War veteran pension, and in reality never saw combat since according to his own statements, he spent the 74-day war at a house in Stanley, before leaving for the continent with his Argentine girlfriend, abandoning his Falklands' family and pregnant wife.
On initiative from governor Rios, Betts will be competing in the August primaries, and if successful will dispute a Mercosur Parliament seat in Argentina's October general elections.
The Parlacen delegation was made up of four members; the Parlasur with two representatives from Venezuela. The Argentine delegation included Tierra del Fuego elected governor Rosana Bertone; Ushuaia city elected mayor Walter Vuoto and a few members of Congress.
The group was expected to fly to Buenos Aires to visit the Malvinas museum and attend a reception hosted by the Foreign ministry.