Argentine economy showing slight improvement but still delicate, says IMF
Friday, July 17th 2015 - 06:19 UTC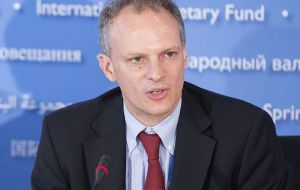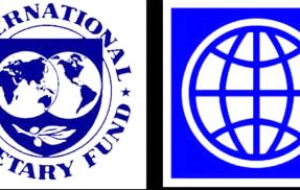 The International Monetary Fund (IMF) slightly improved its outlook on Argentina's economy saying the country will grow 0.1% in 2015 and will remain stagnant in 2016. Nevertheless, IMF warned the country is going through a "very delicate" situation and insisted that the improved outlook doesn't change its views regarding Argentina.
The figures for this year signify an increase from April projections for a 0.3% drop, but slightly worsened for next year considering the international organization had initially expected a growth of 0.1%.
"We see a delicate situation regarding Argentina's economy. Moving from a slight contraction to a slight growth statistically speaking doesn't change our qualitative assessment," IMF Western Hemisphere Director Alejandro Werner said. "The economy will remain stagnant during 2015 and 2016."
Explaining the improved outlook for this year, Werner said the Argentine economy registered higher growth than expected by the IMF in the last quarter of 2014. The Cristina Fernandez administration has increased public expenditure more than initially expected, which has led to a growing demand and higher economic growth, Werner said.
"It's an economy that's growing at very low rates, with an industrial and manufacturing sector that is almost paralyzed. Private investment has also been very weak," Werner said. "The balance of payments is going through a delicate situation. There are trade controls and that limits the economy considerably".
The IMF's outlook for Argentina differs sharply from the World Bank's estimates, which predicted last month the country's GDP will grow 1.1% in 2015, 1.8% in 2016 and 3% in 2017 thanks to a "stronger" macroeconomic environment and "regained" access to international capital markets.
Werner said Argentina as well as other countries of Latin America will face "multiple risks" over the coming years due to the steady decline in commodity prices, a consequence of China's shift to an economic model that is less dependent on exports and government investment and more reliant on domestic consumption.
The continuing negotiations on Greece could still have a negative effect on Latin America according to Werner, who said so far the region's economies and assets have remained stable. At the same time, he said the United States Federal Reserve's plan to increase interest rates this year could increase market volatility in the region, putting pressure on currencies and economic policies.
Overall the IMF lowered its growth forecast for Latin America and the Caribbean to 0.5% in 2015 and 1.7% next year. The figures were down from the IMF's April projections for 0.9% growth this year and 2% next year. IMF also anticipated that the world economy will grow 3.3% this year, below the 3.5% previously projected.