Brazil's corruption scandals reach Lula da Silva: probe into influence peddling
Friday, July 17th 2015 - 04:48 UTC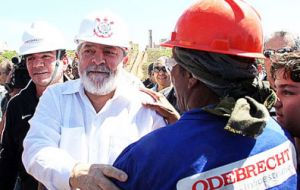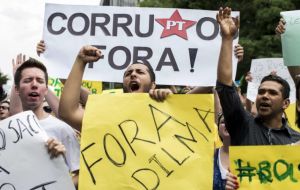 Prosecutors in Brazil have announced a probe into possible influence peddling by former president Lula da Silva, involving the construction firm Odebrecht which is one of Latin America's largest engineering company. The investigation will center on Lula's alleged use of his clout after leaving office to help scandal-ridden construction giant Odebrecht land billion-dollar contracts in Latin America and Africa.
The targeting of the once highly popular Lula de Silva opened a new front in the ever-widening political turmoil in Latin America's largest economy, coming as his successor Dilma Rousseff faced new impeachment and possible removal threats.
Prosecutors had announced in May that they were considering the probe into Lula, but it was only launched July 8 and made public Thursday.
"There is an investigation into possible influence peddling by ex-president Lula with the leaders of other countries on behalf of the construction company Odebrecht," a spokesman for the federal prosecutor's office in the capital Brasilia confirmed.
Lula da Silva's foundation immediately issued a statement saying he had nothing to fear.
"We are calm. The Lula Institute is certain of the transparency and legality of ex-president Lula's activities," spokesman Jose Chrispiniano said.
According to the prosecutor's office, Lula's alleged influence peddling took place between 2011 and 2014. That is after Lula da Silva left office and was replaced by his hand-picked Workers' Party successor, Rousseff.
But as an ex-president, Lula retained his status as a major world figure and the face of commodity-rich Brazil's rise to economic power.
A report in Epoca magazine in May said that Odebrecht, Brazil's biggest construction company, had paid Lula da Silva to use his influence on its behalf in Cuba, the Dominican Republic, Ghana and Venezuela. He is also alleged to have helped persuade the Brazilian state-owned development bank BNDES to finance the foreign projects.
Odebrecht, which does everything from building airports to deep water oil drilling and mining, has said there was nothing untoward in the powerful ex-president's involvement as a booster for Brazilian business.
Brazil's political and elite business circles have already been thrown into commotion by Operation Car Wash, a huge investigation into a bribes-and-kickbacks network that saw companies including Odebrecht bribe politically connected executives at state oil giant Petrobras to grant inflated contracts.
Rousseff, chairwoman of Petrobras for seven years, has not been directly implicated in the scandal but there are mounting calls for her resignation or impeachment. Most of the money allegedly went into the Workers' Party campaign coffers.
Then late Thursday, hours after news about Lula da Silva broke, the powerful leader of Brazil's lower house of Congress, Eduardo Cunha, was accused by a jailed former consultant of having demanded a $5 million bribe as part of the Petrobras scheme. The allegation, given during evidence by Julio Camargo, who is cooperating with prosecutors, was aired on national television.
Cunha, meanwhile, had earlier in the day again raised the threat of impeaching Rousseff, saying he was consulting with lawyers and would reach a decision within 30 days on whether to proceed.