"Sea for Bolivia" and "Malvinas for Argentina" pledges president Evo Morales
Friday, July 17th 2015 - 05:49 UTC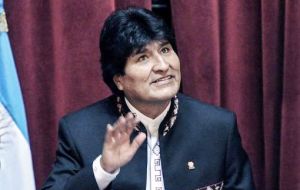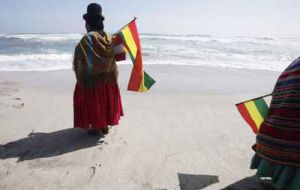 Bolivian president Evo Morales defended his claim of "sea for Bolivia" and "Malvinas for Argentina", during the last of his two-day very militant visit to Argentina before flying late Thursday to Brazil for the Mercosur summit.
"Your struggle is our struggle" said Morales, "we have the same positions (as Argentina) in all international events, that is why our peoples want 'sea for Bolivia' and 'Malvinas for Argentina'. Sooner or later we are going to achieve them".
"We're very happy with Argentina because we know we can always count with the Argentine people in this kind of demands", pointed out the Bolivian leader who added "the (Argentine born) Pope Francis, the Mothers of Plaza de Mayo, they all support us..."
Landlocked Bolivia has a long standing demand for a Pacific outlet in north Chile, an area which almost a century and a half ago was effectively Bolivian territory but was lost following war with Chile.
"Behind Malvinas and behind the sea, are the English. But I'm convinced, we win this battle and we'll win the following battle. That is why the joint effort is so important. Sea for Bolivia is like the first half of a match", insisted Morales before a congress of unions and social groups in Buenos Aires.
Morales underlined that in Bolivia's struggle to have access to the Pacific, Argentina "is the country which has most supported us" and claimed there was an organized campaign in Chile against the Bolivian people's right. Nevertheless he had "great trust in the Chilean people, their social movements and their understanding" and in justice from the international courts to overcome all the "historic damage and sufferings".
Bolivia in 2013 presented its demand before the International Court of The Hague requesting Chile sits at a table to negotiate the issue. Chile argues several bilateral treaties have sealed the dispute and won't discuss sovereignty matters.
The two countries don't even have diplomatic relations since 1978.
Morales also expressed respect and admiration for Greek prime minister Alexis Tsipras.

"Countries free from the International Monetary Fund get on better. Countries that submit to the Fund get on worse. Since we are not submitted, the (IMF) problem does not affect us", said the Bolivian leader.
In his first day of visit to Buenos Aires, Morales and president Cristina Fernandez unveiled a huge statue to Juana Azurduy, a heroine of South American independence who organized guerrillas in support of troops sent from Buenos Aires to oust the Spanish. The bronze is placed exactly where a statue of Columbus stood for over ninety years behind government house or Casa Rosada in the Argentine capital.