The man who silenced Maracana in 1950 passes away with full honors
Friday, July 17th 2015 - 07:44 UTC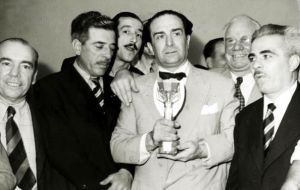 "Only three people silenced Maracana: the Pope, Frank Sinatra and me". The comment belongs to Alcides Ghiggia, Uruguay's last member and striker of the team that beat Brazil in the World Football Cup final of 1950 and thus winning the Jules Rimet Cup. It would be Uruguay's second world cup: the first in 1930 when it beat Argentina.
Ghiggia was 88 on July 16th, the same day that 65 years ago he scored the second and decisive goal against Brazil and silenced the 200.000 seated who were preparing to cheer the country's first world cup with a magnificent team that reached the final with ample scores.
The Maracana stadium, the largest of its time had been especially built by Brazil to crown itself as the best in what has since been described as the "beautiful game" (despite FIFA).
However Uruguay and its eleven players, with a brilliant tactician colored captain Obdulio Varela were to spoil to the unbelief of a tearful country the huge party which had been prepared.
Ghiggia at the time was 22 and admits on scoring the second decisive goal (2 -1) he didn't realize until much later what a monumental feat had been achieved.
"I was only 22, I had no idea of the impact; I always played to win, and we had a balanced team, freshmen and veterans. Obdulio was a magnificent captain and tactician, when we were being overwhelmed by Brazil and one down, he stopped the game and everything changed", recalls Ghiggia in one of his latest interviews.
"To be honest I was more impressed by the fact that the Uruguayan team which had won the first football world cup in 1930 came to have lunch with us and wish us good luck before leaving for Brazil", adds Ghiggia, who admits "we just managed to get through to the final, while Brazil achieved impressive scores".
The Uruguayan government has declared a day of national mourning and flags will fly at half mast on Friday. Ghiggia will be mourned privately with family and then taken to the Legislative Palace where great Uruguayans are honored and given the final farewell.
His second wife, Beatriz, confirmed he started to feel bad on Wednesday night when looking at a football match on television. Taken to hospital he suffered a stroke and passed away on 16 July, the great Cup day for Uruguay, and almost at the same time the game was played at the Maracana stadium, 65 years ago in Rio do Janeiro.
Born 22 December 1926, Ghiggia played for Peñarol, one of Uruguay's leading teams and was part of the 1949 squad which was known as the "1949 machine".
In 1953 he was among the first South American players to be contracted in Europe, more precisely Italy where he played for Rome and Milan, winning the 1962/63 European teams Cup.
As a grandchild of Italian immigrants he also played for the Italian national team. "It was an honor to play for a national team which was not my own", he would comment years later.
Back in Uruguay, he played in top league teams until the age of 42.
In 2009 he was again invited to Rio do Janerio to stamp his foot mark in Maracana's Lane of Fame next to some other major world football figures such as Eusebio; Telé Santana; Djalma Santos.
"I never expected to be honored at Maracana. It's very emotional. My sincere appreciation to the Brazilian people", he said at the time.
However he admitted that as a young player he never received so many acknowledgements as an old veteran which "is an honor, a satisfaction and a surprise that so many people still recall the 'Maracanazo'"
But "I imagine it's not an easy victory beating the locals in a final, and this has a greater impact than in other world cups".