A new chapter for Greece: banks reopen and a raft of VAT increases
Monday, July 20th 2015 - 08:03 UTC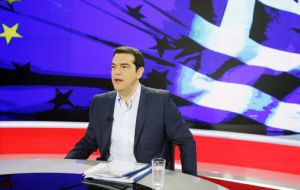 Banks in Greece expect long queues but no major problems when they reopen this Monday for the first time in three weeks, although withdrawals will still be limited and capital controls will remain, senior banking officials said on Sunday.
The cautious reopening of the banks, and an increase in value added tax on restaurant food and public transport from Monday, are aimed at restoring trust inside and outside Greece after an aid-for-reforms deal last week averted bankruptcy.
Prime Minister Alexis Tsipras is trying to turn a corner after bailout terms he reluctantly accepted prompted a rebellion in his leftist Syriza party.
He sacked party rebels in a government reshuffle on Friday and is seeking a swift start to talks on the bailout accord with European partners and the IMF before elections which Interior Minister Nikos Voutsis said were likely in September or October.
The government on Saturday issued a decree ordering the lenders to pull up their shutters on Monday after they were closed on June 29 to prevent the system collapsing as withdrawals skyrocketed over worries on Greece's debt crisis.
The head of Greece's banking association Louka Katseli urged Greeks, who will be able to withdraw 420 Euros a week at once instead of just 60 Euros a day, to put their money back.
"Tomorrow when the banks reopen and normality is restored, let's all help our economy. If we take our money out of chests and from our homes - where they are not safe in any case - and we deposit them in the banks, we will strengthen the liquidity of the economy," she told Skai television on Sunday.
Sigmar Gabriel, economy minister of Germany, the biggest contributor to Euro zone bailouts, said the deal could succeed where previous ones failed because the European Union now emphasizes growth and investment rather than just austerity.
It would depend on reforms being enacted and "convincing the population that this is a path that allows Greece to assert itself rather than becoming a permanent alms-receiver," he said in extracts from a television interview.
The deal struck at a euro zone summit last week allowed the European Central Bank to top up emergency credit lines which the Greek banking sector needs to survive.