Macri's party retains Buenos Aires city but his presidential aspiration suffers a significant blow
Monday, July 20th 2015 - 05:21 UTC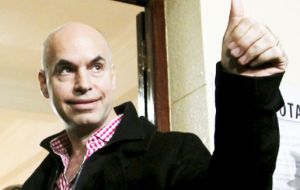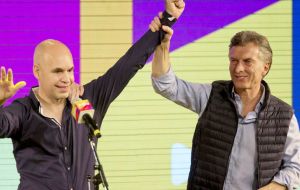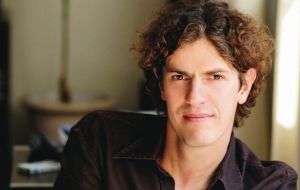 Argentina's conservative PRO party won the Buenos Aires City mayoral runoff on Sunday, clinging to its stronghold for a third consecutive term ahead of presidential elections in October, but by a smaller-than-expected margin. Horacio Rodríguez Larreta won 51.6% of ballots cast while his opponent Martin Lousteau picked up 48.4%. Public opinion polls anticipated a ten points difference.
The next mayor of Argentina's capital was chief of staff of Mauricio Macri, who held the post for two consecutive periods, eight years, and is now running for president in the October elections. However with Buenos Aires, the PRO's power base, accounting for about 8% of Argentina's national vote, Macri would have hoped his party would win by a wider margin.
Rodríguez Larreta, had been ahead in the polls ever since he overcame the challenge from Senator Gabriela Michetti to win the PRO primaries, paving the way for the first transition from an elected PRO official to another one in a City that has been governed by the party since 2007.
Despite the PRO's high approval ratings, Rodriguez Larreta on 5 July when the first round failed to win more than 50% of the vote, and had to face runner up Martín Lousteau of the ECO coalition. The third candidate, from Cristina Fernandez Victory Front, Mariano Recalde obtained 21% of the vote, but refused to support any of the run off candidates arguing they are 'the same option'.
Buenos Aires city Mayor and presidential hopeful for the PRO party Macri seized the opportunity to launch his national campaign during the celebration of Horacio Rodríguez Larreta's victory in the BA city mayoral elections.
Macri thanked PRO activists and BA city neighbors for voting for PRO, saying that during these eight years of mandate he had the opportunity to speak citizens of the capital city and learn a lot about their necessities and desires.
"I thank you for this vote of confidence. You have made the correct choice. Your new Mayor is the hardest worker, the most dedicated, the person who knows more about the city," he said in reference to Rodriguez Larreta.
The current Mayor then focused on his own presidential run, and went on saying he believes in a different kind of politics than the one practiced by current ruling Victory Front representatives.
"I want politics that encourage us, not one that depresses us. One that supports us, not one that holds us back," he said. "I believe in solidarity, in team work. We can be so much better than we are now. We can be so much better than they let us be," he added promising to keep much of social benefits installed by Cristina Fernandez.
However the close win of this Sunday was far from the almost 20-points difference his successor obtained on 5 July.
In effect Victory Front's presidential hopeful Daniel Scioli came on stage to analyze the agonizing victory of PRO's Rodriguez Larreta in Sunday's runoff and said that Macri's force must be worried about the results.
"It looks like people want a change in the city," Buenos Aires governor told reporters of Radio 10 and added: "We have to reinforce policies instead of making a change which may generate uncertainty."
"It is obvious that the Victory Front voter backed Lousteau," Scioli stressed.
"People want an experienced president which brings serenity, that looks after employment, which maintains policies people want," he added when referring about this year's general elections which will see him compete against opposition leader Mauricio Macri.
Meanwhile Victory Front mayoral candidate Mariano Recalde said his voters opted for Lousteau's candidacy in the runoff to hurt Macri's presidential campaign.
"Our voters decided to choose Lousteau to hurt Macri's presidential campaign. If newspapers are honest, tomorrow they should report Macri lost in the city and his presidential candidacy suffered a huge blow," Recalde told C5N news channel.
Gabriela Michetti PRO party candidate in the ticket with Macri, explained the lower voter turnout in the Buenos Aires city mayoral elections by the winter holidays that started this weekend in the Argentine capital.
"It may be because of the holidays, or maybe because it's an election between two candidates, and perhaps the option of the blank vote was not attractive to many people," said Michetti on the lower voter turnout.