Cuba and US on a 'new beginning', but 'profound differences' persist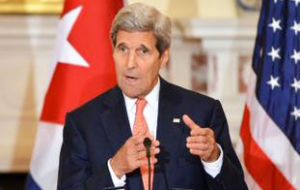 U.S. Secretary of State John Kerry on Monday called the restoration of diplomatic relations with Cuba a "new beginning" but said many differences remain between the two nations and warned that the full normalization of ties will be a long process. He spoke hours after ceremonies were held in Havana and Washington to mark the restoration of ties after more than five decades of hostility.
Kerry said the "interests of both countries are better served by engagement than by estrangement,'' after meeting with Cuban Foreign Minister Bruno Rodríguez, who made the first visit to the State Department by a Cuban foreign minister since 1958.
Rodríguez said that he and Kerry had a constructive meeting Monday, but also stressed there are "profound differences" between the countries. He called for an end to the U.S. economic embargo against Cuba and urged the return of territory used as the U.S. military base at Guantanamo Bay.
Earlier, in the pre-dawn quiet, the red, white and blue Cuban flag was hoisted at the U.S. State Department, alongside the flags of the other countries that have diplomatic relations with the United States.
A short time later, Cuban officials, including Rodriguez, attended an opening celebration and flag-raising ceremony at Cuba's Washington embassy.
The opening ceremony for the U.S. embassy in Cuba will be delayed until Kerry can travel to Havana, but the embassy will be fully functional in the meantime. Kerry announced Monday that he will travel to Havana on August 14.
The historic diplomatic shift comes 54 years after a diplomatic break that happened during U.S. President John Kennedy's administration. The re-establishment of ties between the two countries is not without its critics.
Republican U.S. Senator Marco Rubio has said there has not been enough emphasis on Cuba's human rights record. He said earlier this year, "Their view of human rights isn't just different than ours, they are flat-out wrong and immoral in their views."
Roger Noriega, an American Enterprise Institute analyst and a former U.S. ambassador to the Organization of American States, also expressing concern about Cuba's human rights record, said "I think we have had to lower our standards in order to raise our flag in Havana."
In a statement, White House Press Secretary Josh Earnest welcomed the historic event.
"This is yet another demonstration that we don't have to be imprisoned by the past. We look forward to working collaboratively to normalize relations with the Cuban government and people after more than half a century of discord," the statement said.
State Department spokesman John Kirby said the U.S. and Cuba continue to have discussions on a wide range of issues.
"We began a conversation that I suspect will continue on human rights, which we know is going to be a part of this new relationship," said Kirby. He added the U.S. and Cuba had agreed to have conversations about fugitives and law enforcement.
In a statement on the Cuban Foreign Ministry website, the Cuban government said the re-establishment of diplomatic ties and opening of embassies "completes the first stage of what will be a long and complex process toward the normalization of bilateral relations."
The statement also said there could be no "normal" relations between the two countries "as long as the economic, commercial and financial blockage continues to be fully implemented, causing damage and scarcities to the Cuban people."
However many Cubans have praised their government for enacting the changes and welcome the improved relations with the United States. Some have begun to sport clothing with the U.S. flag and other American symbols.