Falklands attends Bermuda pre-meeting of BOT's Joint Ministerial Council
Tuesday, July 21st 2015 - 05:00 UTC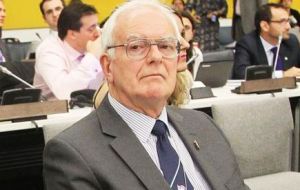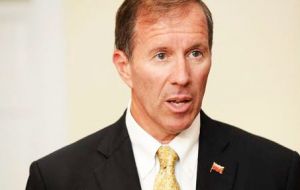 Leaders of British Overseas Territories will gather in Bermuda this week ahead of the Joint Ministerial Council. It's the second time Bermuda has hosted the precursor of the JMC that will be held in London later in the year, reports the Royal Gazette. The Falkland Islands will be represented by Roger Edwards, Member of the Legislative Assembly.
The pre-meeting, which takes place at Rosewood Tucker's Point from July 22 to 24, will be attended by Orlando Smith, Premier of the British Virgin Islands; Alden McLaughlin, Premier of the Cayman Islands; Rufus Ewing, Premier of the Turks and Caicos Islands, Dolmades Ryan, the Deputy Premier of Monserrat and Roger Edwards, member of the legislative assembly of the Falkland Islands.
Other overseas territories of the South Atlantic including Ascension Island, Tristan da Cunha, St Helena and Pitcairn will be represented remotely.
"Bermuda is very pleased to welcome the OT Heads of Government and OT representatives," said Bermuda PM Michael Dunkley, who will be chairing this week's meetings.
"The Joint Ministerial Council is the highest political forum between the UK Government and elected leaders and representatives of the Overseas Territories.
"It's objective is to provide leadership in delivering shared priorities as set out in the 2012 White Paper.
"So the pre-meetings provide an invaluable opportunity for us to have frank and meaningful discussions about critical matters facing each of our countries in preparation for the OT JMC meeting later this year.
"Areas of focus at this week's meetings will Centre on social and economic development, environmental and security matters and the relationship between the OTs and the UK."