Scioli meets Raul Castro in Havana and praises political and economic opening of Cuba
Thursday, July 23rd 2015 - 06:40 UTC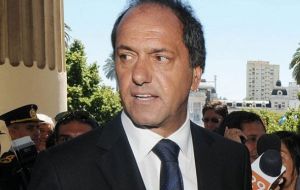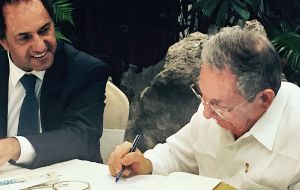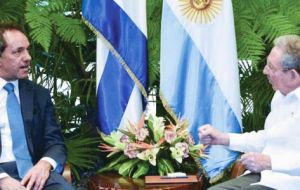 Argentina's presidential hopeful and Buenos Aires governor Daniel Scioli was received on Wednesday by President of Cuba Raul Castro for an official audience in Havana, making the incumbent candidate the first foreign politician to meet the head of state since the normalising of relations with the United States.
Scioli, who is running to succeed President Cristina Fernández on the incumbent's Victory Front ticket, was pictured alongside Castro in the Palace of the Revolution, in the Cuban capital.
"For my friend Daniel, I will go to his inauguration on December 10 2015," Castro wrote in a copy of his book "Raul Castro. A man in revolution" dedicated to the presidential candidate.
Scioli in turn praised Castro's term in government and his ability to mend relations with the United States in the past year.
"I admire and respect Raul's positive influence for having defended with dignity the Cuban people and his ideals, and as well for proposing, as he has mentioned, the updating of the socialist economic model, with all the expectations that have been opened by the re-establishing of diplomatic relations between Cuba and the United States," he said.
The Kirchnerite politician also highlighted "the conditions generated by Cuba for foreign investment," as well as "the challenges of complementing each country's economy with a very wide agenda, cultural, sporting, social, with tourist exchanges and in all the agricultural field."
The Cuban president then stated he hoped "the solid relationship between Cuba and Argentina, which [late former president] Nestor Kirchner and President Cristina Fernandez Kirchner have promoted will continue."
The visit was the first received by the elderly leader since Monday's historic reopening of the Cuban embassy in Washington, signifying the ends of 54 years of stand-off between the country and the US. The role of Pope Francis, the former archbishop of Buenos Aires Jorge Bergoglio, in normalising relations has been highlighted by Castro in speeches.
Prior to the audience, Scioli held talks with José Ramón Balaguer Cabrera, the Communist Party's chief of International Relations and former Public Health minister on the island.