Small fire on cruise vessel in Jamaica suppressed by its own equipment
Thursday, July 23rd 2015 - 07:48 UTC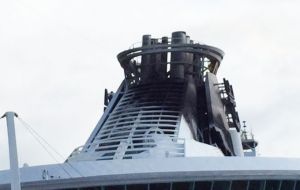 A fire aboard a Royal Caribbean cruise ship that departed from Port Canaveral injured one crew member, but company officials say it was quickly extinguished. Black smoke could be seen billowing from the 1,112-foot Freedom of the Seas as it docked in Jamaica on Wednesday with 4.500 passengers.
The company said in a statement the fire broke out Wednesday in a mechanical area aboard the Freedom of the Seas as it arrived in Falmouth, Jamaica. The company said onboard fire suppression equipment put out the fire.
Passengers were told to go to evacuation assembly stations out of what Royal Caribbean called an abundance of caution. The company said all systems are operating normally.
One crew member was treated for burns. No passengers were injured.
Freedom of the Seas has been stationed at port Canaveral since 2009, and the ship recently underwent a major renovation onboard, including the addition of more cabins, restaurants and water attractions.
A spokeswoman for Royal Caribbean said the ship was not compromised, and it was going to continue its itinerary with a stop in Grand Cayman set for Thursday morning.
Many passengers took to social media with photos of the fire, as well as pictures of passengers with life vests, seemingly waiting for the evacuation to end.
Passengers were eventually able to get off the ship but their time on the island was a little shorter because of the fire.
The Freedom of the Seas is currently on a seven-night sailing that departed from Cape Canaveral Sunday.