Bermuda Premier calls on British Overseas Territories for a 'united front'
Friday, July 24th 2015 - 09:02 UTC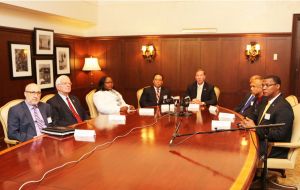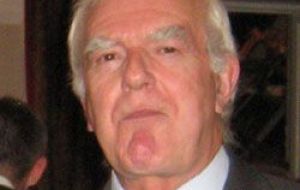 Bermuda Premier Michael Dunkley called for the British Overseas Territories (BOTs) to present a united front in key areas and for the leaders to work together to best represent the people of the region. Premier Dunkley opened on Thursday the Pre-Joint ministerial council which convened leaders from several BOTs including the Falklands MLA Roger Edwards, as reported by the island's Royal Gazette.
This week's meetings are intended as a planning session, allowing those involved to discuss issues affecting the BOTs in advance of a Joint Ministerial Conference scheduled to take place on November 2015 in London.
The Bermuda leader's speech addressed mainly Caribbean BOTs economic, financial and social challenges, which is not the case of the Falklands with a strong economy, budget surplus, virtually full employment and minimum inflation, despite all the efforts by Argentina to derail the Islands' economy.
"Our meetings this week are held against a backdrop of cautious growth in the United States, pockets of turmoil in the European Union and complex tourism dynamics in the (Caribbean) region. Added to that are the social issues that occupy our domestic agendas, including the threat of the gang lifestyle, increasing healthcare costs and the ability of governments to provide relief for the most vulnerable of its citizens.
"There is cause for much hope within the territories. Each of us in our own ways continue to 'punch well above our weight' on the international stage. This is something of which we are justifiably proud and which we must continue to do. Irrespective of our diverse economic interests we have to keep in mind there is strength in unity.
"That unity is increasingly important in our relationship with the United Kingdom Government. Recently strengthened by a clear majority in Parliament, Prime Minister Cameron is at liberty to examine policies afresh and so it is vitally important for us to be in harmony on issues that affect us as territories."
He said the issue of beneficial ownership is a key one connecting the BOTs, stating that Bermuda will continue to make a case for compliance with international best practice and sound regulations.
"Our regime is robust and I am confident that repeated often enough, those outside this region will come to accept our position on this issue," he said.
"Matters of international scope are but one facet of our work as leaders of OTs. At home, we are faced with a domestic agenda that demands equal attention. The expectations of our people have been disappointed by the challenges of unemployment and inadequate revenue. The task, as you all know, is difficult.
"We cannot simply balance budgets through redundancies or cost cutting without regard to impact. The people affected by either of those actions have nowhere else to go; not the next state, county or district. So we have to find creative ways to reduce spending and balance budgets while restoring growth to our economies."
Premier Dunkley said the economic challenges have social consequences, adding that it is difficult to build national morale in a climate of slow economic growth.
"Our task as leaders is to remain committed to policies that we believe will achieve growth while inspiring our people to play their part and doing all we can to support citizens who truly need assistance," he said.
Among BOT leaders expected to take part in the two-day meeting are Premier Orlando Smith of the British Virgin Islands, Premier Alden McLaughlin of the Cayman Islands, Deputy Premier of Montserrat Dolmades Ryan and Roger Anthony Edwards, Member of the Legislative Assembly of the Falkland Islands. Other BOTs will be represented remotely including Ascension Island, Tristan da Cunha, St Helena and Pitcairn.
The annual Overseas Territories Joint Ministerial Council (JMC) brings together political leaders from the Overseas Territories and UK Ministers. It will meet this year in London from 26 - 27 November and will be hosted by FCO Minister for the Overseas Territories Mark Simmonds MP.
The JMC is the principle forum for reviewing and implementing the shared strategy for promoting the security and good governance of the Territories and their sustainable economic and social development.