Brazil's agriculture minister optimistic about a Mercosur/EU trade accord by end of the year
Thursday, July 30th 2015 - 09:39 UTC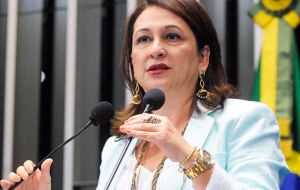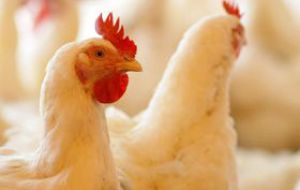 Brazil' minister of agriculture Katia Abreu said she was very optimistic about Mercosur reaching a trade agreement with the European Union, and if there are problems look to Europe, because Mercosur members have almost agreed and finished their proposal.
Ms. Abreu is probably the strongest political woman in Brazil currently, not only because president Dilma Rousseff is much debilitated politically, but because the minister is also head of one of the strongest lobbies in Latin America's largest economy, and one responsible for most of the country's agri-business exports.
"Mercosur is on the right track, countries of the region have virtually agreed on the proposal (of tariff reductions) to exchange with the European Union. If any problems look to Europe", said Ms Abreu interviewed by the Uruguayan media at the Sao Paulo international poultry and hogs industry exhibition.
Abreu admitted that in the recent (June) Brussels ministerial meeting, Mercosur insisted on finally reaching a deal on negotiations that have been going on for over 15 years.
"I'm convinced the exchange of proposals with the EU will take place at the end of October, beginning of November. That's virtually tomorrow. On our side from the technical point of view, we are ready, I don't know if I can say the same on the political side", said the powerful Brazilian minister, who was previously president of Brazil largest and most efficient farmers' association.
The minister delivered a speech at the show on the Brazilian potential as producer and exporter of proteins to the world, in this case from the so called 'white meats'. In effect Brazil is the world's leading exporter of chicken and fourth when it comes to pork meat. Brazilian poultry exports reach 170 markets and pork, 80 countries.
During the show's debates, minister Abreu also made several announcements: for the first time in 16 years, the US market is now open to Brazilian beef; likewise with China, Myanmar; South Africa to Brazilian chicken and Russia to Brazilian dairy produce.
And last but not least in the second half of the year Brazil will begin shipping milk to China.
The minister also announced that new markets for chicken meat will boost exports by 8% and that Brazil is preparing to negotiate a sanitary accord with the EU to allow pork meat exports. Likewise in 2016 Brazil will be making the necessary presentation before the UN World Organization for Animal Health (OIE) in Paris so that fourteen states of the union are declared free of swine fever.