Kicillof blasts 'speculators' for promoting a run from the Peso to the US dollar
Thursday, July 30th 2015 - 09:16 UTC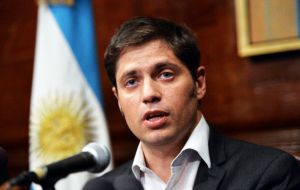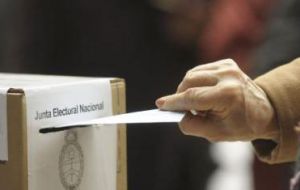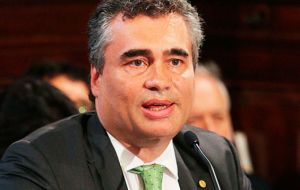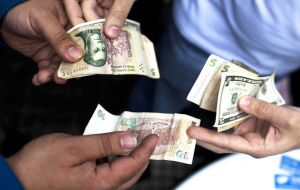 Argentina's economy minister and central bank governor came out strongly to warn the "devaluation club" and speculators in the foreign exchange market who allegedly are pushing the value of the US dollar and sinking the local Peso.
With presidential elections next October and primaries on 9 August, president Cristina Fernandez unorthodox approach to economics, inflation and government spending, are the defence of the controversial "model" have become part of the national debate.
Economy Minister Axel Kicillof blasted what he called the "devaluation club" and urged businessmen, bankers and industry leaders to "avoid talking about a foreign exchange market slowdown because it disturbs people."
In an interview offered to television news network, the minister called to have confidence in the national currency, the Peso. "When people get frightened, they don't invest in the same way. Investment is very volatile. If people believe there will be devaluation, a foreign market slowdown, they won't invest," he added.
He insisted the administration of Cristina Fernandez is not planning "severe changes" in its monetary policy to address the Brazilian real devaluation adding "here in Argentina the foreign exchange market remains stable."
"Stop fooling around with the foreign exchange rate and scaring and 'screwing' people", affirmed Kicillof.
"We have identified a global crisis since last year, so we have implemented a series of programs, such as Procrear, Progresar, Ahora 12 and the Price Watch Program, to sustain domestic demand and to prevent economic difficulties in other nations from affecting Argentina's employment level," Kicillof stated.
"I was attacked for those programs," the economic chief said. "People was afraid, they were told they would lose their jobs, but that didn't happen," he added. "We are not going through the best year in Argentina," he admitted, but "it's not the worst like they had predicted."
In the same vein Central Bank governor Alejandro Vanoli said the bank "has the level of reserves to avoid any maneuver" seeking to fluster the foreign exchange market and create "instability" ahead of the presidential elections.
"The monetary and financial stability is guaranteed. The Central Bank has the level of reserves to face all financial commitments, all the supervision instruments to shrink financial volatility and avoid any attempt of maneuver. We guarantee Argentines they will be able to vote in peace," Vanoli said in statements to a local radio station.
"In these months, after two years, deposits in dollars began to recover, which is a show of trust," the official added explaining that in the past, when election periods, people used to withdraw their money instead.
Queried about the so called "blue" dollar, Vanoli pointed out "black markets" existed in all countries.
In Argentina the official rate stands at 9.19 Pesos to the dollar while in the 'blue' or black market at the end of Wednesday was trading at 14.94 Pesos. A few days ago it reached 15 Pesos and all the alarms went off. Despite raids on 'caves' where illegal transactions normally take place, the gap between the two markets is in the range of 60%.
"In all countries there are black markets, illicit activities; our duty is to combat it; that's why (we set) fines and sanctions. Who benefits from its price continuing to rise? We are close to the elections and the campaign has been brought into it. The opposition seeks to install there is a crisis and some media are part of that strategy," he stated blasting pro-devaluation sectors.
"Many sectors get annoyed because reserves have increased and no devaluation has followed, which would only benefit does promoting it. The think that the restoration of neo-liberalism is round the corner, but it is more and more far away," the Central Bank authority said.
Finally he underlined that speculators "want to make subtle warnings to democratic governments; that is why it is very important for democracy that economy powers be subordinated to the political power".