US State Department calls on Venezuela to lift ban on opposition candidates
Wednesday, August 5th 2015 - 08:47 UTC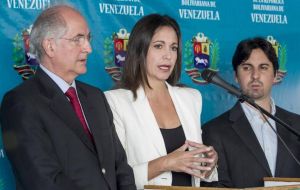 The United States on Tuesday called on Venezuela to reverse a ban on opposition members from holding office and participating in the 6 December parliamentary elections. Washington made the request after opposition leader Maria Corina Machado said she had tried to register on Monday as a candidate but her application was rejected.
In a release the State Department said that the decisions by Venezuelan electoral officials "clearly have the intention of complicating the ability of the opposition" to contest the poll and to limit the field of candidates.
"The United States views with concern reports of recent decisions by the Venezuelan National Electoral Council and Comptroller General banning certain members of the political opposition from running for or holding public office. These decisions clearly have the intention of complicating the ability of the opposition to run candidates for the legislative elections, and limiting the range of candidates that can be presented to the Venezuelan people.
"Democracy must be inclusive. Its purpose is to provide a broad enough range of choice for voters to express their preferences in meaningful fashion. To this end, we call on all relevant Venezuelan authorities to reconsider the ban imposed on candidates, and reiterate our call for credible and timely electoral observation. We encourage the appropriate institutions to ensure that Venezuelans can exercise their right to participate in the upcoming elections, as candidates and voters, in keeping with Venezuela's democratic traditions and in accordance with the Inter-American Democratic Charter".