Brazil's top prosecutor backed by peers for another term, but he needs Senate confirmation
Thursday, August 6th 2015 - 08:27 UTC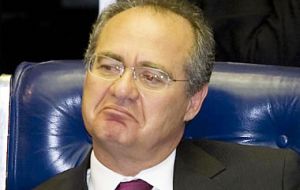 Brazil's top prosecutor, who has put dozens of politicians under investigation for allegedly taking bribes in the Petrobras corruption scandal, has won the backing of his peers to stay on the job for two more years.
The association of federal prosecutors voted on Wednesday to propose Rodrigo Janot's name to President Dilma Rousseff for another term as prosecutor-general.
Rousseff is expected to nominate Janot, but it is not clear whether he will win confirmation by the Senate because the head of the upper house, Senator Renan Calheiros, is one of the lawmakers under investigation.
Janot included Calheiros on a list of 32 sitting politicians that he sent to the Supreme Court in March on the suspicion that they had received political kickbacks paid by engineering firms from overpriced contracts with Petrobras.
The corruption investigation has led to the indictment of dozens of executives from Brazil's top engineering and construction firms as well as former Petrobras directors.
Most of the implicated politicians belong to parties in Rousseff's governing coalition, including her Worker's Party. The scandal has undermined her popularity and turned allies against her. Rousseff is not under investigation and has said all those found guilty must be punished.
The Petrobras corruption probe came one step closer on Tuesday to Rousseff's mentor and predecessor, former president Lula da Silva, when police arrested his former chief of staff Jose Dirceu.