Uruguay inflation at an annualized 9%; 60 days price-freeze of 1.400 items
Thursday, August 6th 2015 - 08:35 UTC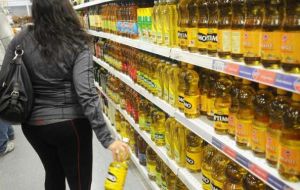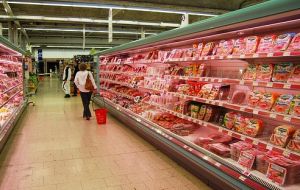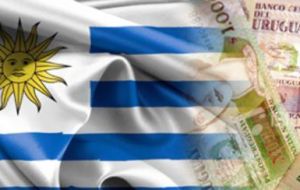 Uruguay's inflation climbed 1.21% during July and reached 6.91% in the first seven months of the year and 9.02% in the last twelve months, according to the release from the country's stats office, INE. In July 2014 inflation was 0.75%.
Food and beverage were the items which had the strongest impact on the consumer prices index. The food basket was up 1.7% with meats climbing 1.8% and vegetables 6.9%. In the case of pork and chicken, the government again slapped the VAT tax which it had suspended during the last seven years.
Likewise beverage and tobacco also had a great boost in prices as cigarettes increased 9.2% because of higher levies.
The increase in the administered fuel prices (6%) influenced the item transport which was up, 1.18% in July. Housing increased a modest 0.41% while on the falling side were Clothing (down 0.7%) and Communications (minus 0.03%).
The July and seven month record make the Uruguayan government target of inflation for the whole year in the range of 3% to 7% ever more distant. Only in the first seven months of the year the 6.91% CPI increase is almost equivalent to the higher 7% target for the whole of 2015.
Faced with this scenario the Uruguayan government reached an agreement with the supermarket chains and importers to freeze the price of 1.400 items for the next sixty days until October 4. The items include food, beverage, toiletry and cleaning articles.
This is not the first time the Uruguayan government puts in practice a prices' agreement with the main domestic suppliers in an effort to keep inflation below the two digits. Because of a long standing agreement with the unions, --which are very strong in the country--, labor payment and work conditions accords must automatically be reviewed if inflation reaches 10%.
The Uruguayan government has the advantage that it administers some of the basic prices of the economy such as public utilities' rates, power, fuel, communications, drinking water, transport fares, which it manipulates taking into account the 10% threshold. Besides it controls the stats office, INE, which despite an investment of 60 million dollars it was unable in 2012 to deliver a complete wide ranging census of a country with a population of 3.5 million.
However the 1.400 items price agreement is conditioned to ensuring that the US dollar, currently almost at 29 Pesos, in the next two months does not reach 30 Pesos, to help importers contribute with their effort.
This is an essential part of the deal since in the last 18 months, the Uruguayan currency has been moderately sliding an estimated 50% from 19 Pesos to 29 Pesos to keep in tune with the currencies of its main Mercosur neighbors, Brazil and Argentina.