World Lion Day, Monday 10 August to celebrate the King of Beasts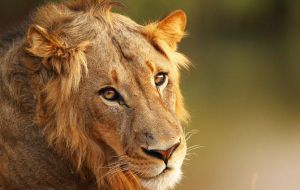 World Lion Day is to be remembered on Monday, August 10, and to celebrate this first campaign to protect the imposing animal many websites are dedicating amazing photos of the King of Beasts, as it is sometimes called.
With all the attention on the cruel slaughter of Cecil the lion in Zimbabwe, this day can't come at a better time. This is the first time that those who love these magnificent beasts will come together to celebrate World Lion Day, to bring awareness of the need to protect the legendary animals.
Men and cultures are fascinated with lions and have been for many centuries. We honor them with monuments and they appear in many important buildings around the globe, and now they will have the beginning of what organizers hope is a special day to focus on the need to keep these animals safe from extinction.
The website dedicated to celebrating World Lion Day states that despite humans' admiration for the dangerous cat, their future is uncertain.
"Despite the lions' symbolic importance throughout the ages, today they are suffering from a silent extinction across Africa and India. Knowledge of the King of Beasts' plight is little known.
"World Lion Day is the first global campaign to celebrate the importance of the lion worldwide. Since the dawn of man the lion has played an integral role in our lives: symbolically, religiously, culturally, economically, and biologically. To lose the lion from our world would be to lose part of our global heritage."
The call is to celebrate World Lion Day on August 10, wherever you may be in the world, and bring awareness of the precarious situation and bleak future the animals face.
Likewise Animal Planet will be dedicating twelve hours of program on Monday to Cecil the lion, the famous resident of a Zimbabwe nature preserve killed by a Minnesota dentist.
Starting at 6 a.m. and running to 6 p.m., shows like "Big Cat Diary" and "Into the Pride" will be aired during the special marathon.
"Cecil's senseless slaughter is a vivid reminder of how vulnerable these magnificent animals are to human threats," the cable network stated in announcing its plan.