State of emergency in north of Chile because of torrential rain and floods
Tuesday, August 11th 2015 - 07:18 UTC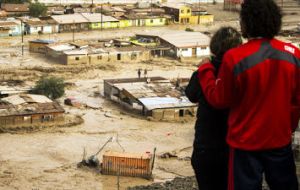 A state of emergency has been declared by the Chilean government in the northern cities of Antofagasta and Tocopilla due to the strong winds, heavy rains, flashfloods and mudslides. President Michelle Bachelet visited the north on Monday to observe first-hand the damage caused by a storm that left six people dead nationwide.
"Some people lost all their belongings, others have been left in very complex situations," the president said in the city of Tocopilla. The storm began four days ago across a dozen regions of Chile and has forced 830 people to flee their homes.
Four people were reported killed in the arid extreme north of the country which has been battered by powerful winds, torrential rains and mudslides. Two people died on Saturday in the cities of Valparaiso and Coquimbo.
Brigadier general Claudio Hernandez Muñoz is in charge of coordinating the response to the storm, Interior Minister Jorge Burgos announced during a press conference at the National Emergency Management Office (Onemi) where a State of Exception was declared.
After meeting with the emergency management committee of the area, Bachelet committed herself to strengthening security and ensuring the arrival of supplies for the survivors in Tocopilla, where 500 soldiers are working to clear away the mud and rubble.
In just three hours, Tocopilla, a town of some 20,000 in Chile's arid far north, registered as much rain as has fallen there in the last seven years.
The downpour caused five floods that poured directly onto the city and the highway that connects it with Antofagasta, where 180 people were trapped, most of whom were rescued Monday by air force helicopters.
"It was an incredible sight the way the water came down so powerfully from a ravine that it carried away houses and totally destroyed them," Housing Minister Paulina Saball, who traveled to the affected area to inspect the work of clearing away the rubble, said on Radio Cooperativa.
Health Minister Carmen Castillo, who also went to Tocopilla to check on the hospital there, announced the provision of flu and tetanus shots for those in the area who needed them.