CARICOM tells Venezuela it supports Guyana's integrity in territorial dispute
Wednesday, August 12th 2015 - 09:10 UTC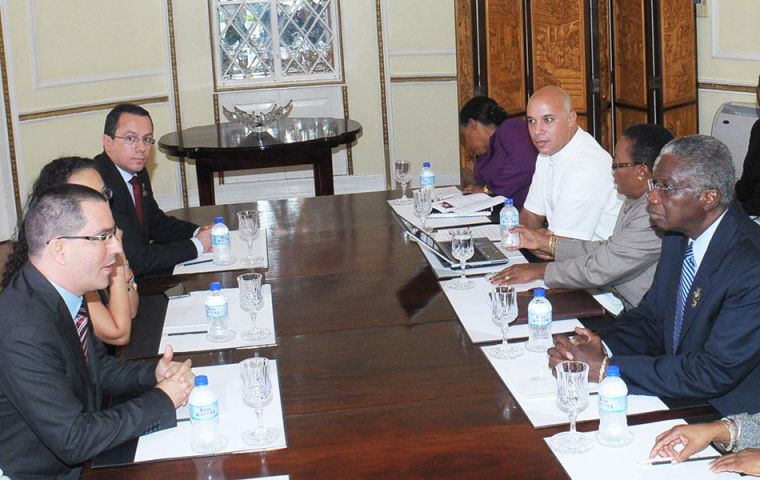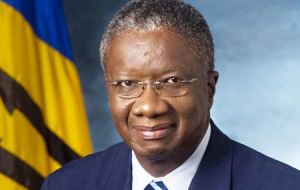 Venezuela's vice-president Jorge Arreaza recently heard directly from CARICOM chairman, Barbados' Prime Minister Freundel Stuart, that the regional grouping is backing Guyana in the territorial dispute between the two South American neighbors. Stuart met last Friday with Arreaza who was visiting the island as part of a regional tour to discuss Venezuela's territorial and maritime claims in the region.
Venezuela's President Nicolas Maduro issued a decree on May 25, claiming sovereignty over Guyana's territorial waters in the Essequibo region of the Atlantic Ocean, including a large part of the area where US oil giant ExxonMobil discovered oil a month ago.
During last week's discussions, Stuart emphasized the need to maintain peace and stability as the basis for enhancing regional cooperation and the development of both Guyana and Venezuela, and welcomed Arreaza's visit to Barbados and the Caribbean as a tangible demonstration of his country's commitment to those ideals.
But he reiterated the position adopted by CARICOM heads of government last month, and restated its total support for the integrity of Guyana's territory and maritime space, as well as that of all CARICOM states. He said that Barbados stood by Guyana as it sought the best means to address this issue.
"We are committed to assisting Venezuela and Guyana in this dispute, preferring at all times a peaceful solution… But as of now, having regard to the fact that there was an arbitral award in 1899 and having regard to the fact that the Geneva Agreement of 1966 has not yielded the kind of results that either Venezuela or Guyana expected, CARICOM's formal position has to be a commitment to the territorial integrity of Guyana," he pointed out.
Acknowledging that both countries had been trying to pursue a peaceful settlement for many years, Stuart expressed the view that the time had come for the issue to be concluded.
"We cannot contemplate such an end if we do not have a mechanism in place. For in the event the peaceful solution we prefer does not happen, an alternative mechanism can be sprung into action that can settle the matter by judicial means," he noted.
Stuart told Arreaza that Barbados acknowledged that Venezuela had issued a new decree, namely Presidential Decree 1859 of 6 July 2015, which had replaced Decree 1787. He informed that the new Decree was being studied by CARICOM experts.
Stuart emphasized the importance to Barbados of its relationship with Venezuela. He welcomed the efforts at communication on the part of the government of Venezuela.Also present at the meeting were Venezuelan Ambassador to Barbados, José Gomez Fébres, and the Venezuelan Vice President's wife Rosa Virginia Chavez.