Political ally who can save Rousseff from impeachment wants Brazil out of Mercosur
Friday, August 14th 2015 - 09:23 UTC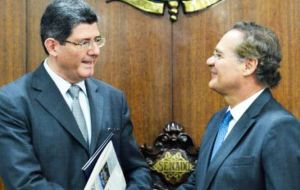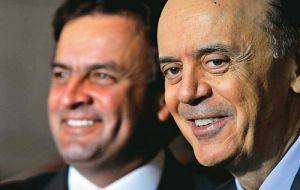 Renan Calheiros, president of the Brazilian Senate, and the man who could help President Dilma Rousseff avoid impeachment in Congress, has proposed a package of measures to rescue Brazil from its current stagflation, but among his demands is "an end to the customs union of Mercosur".
"Putting an end to the Mercosur customs union to that Brazil can go ahead and sign bilateral trade agreements without having to depend on the support from the group's other members" reads the initiative on Mercosur from Senator Calheiros who also has close links with the powerful Brazil agriculture and manufacturing associations.
The proposal is included in the so called "Agenda Brazil" with 28 specific measures, and was officially handed this week by Calheiros to Finance minister Joaquim Levy and a grouping of thirty senators both from government and the opposition.
Calheiros belongs to the Brazilian Democratic Movement, PMDB, the largest organized party in Brazil with a national network, and main coalition ally of the ruling Workers Party, PT, from president Dilma Rousseff and her political mentor, Lula da Silva.
Last week he approached the administration of Rousseff and made his first proposal, probably at the very right moment since, the president seemed condemned to impeachment by a contracting economy and several major political corruption scandals involving her party such as the ongoing investigation in Petrobras, plus the fact her approval rate had plummeted to 8%.
Besides on Sunday August 16, a major national protest in all cities has been organized and the turnout is anticipated to be massive. Several opposition parties suggested this could be the turning point for president Rousseff's removal or not from office by beginning impeachment proceedings.
The unilateral signing of trade agreements has been defended and supported as crucial for Brazil's development and growth, by the manufacturing and agriculture industries in Brazil.
The former head of CNA, the agriculture lobby, and current Agriculture minister Katia Abreu was quoted stating that Brazil must sign a free trade agreement with the European Union without having to wait for consensus from its Mercosur partners (Argentina, Paraguay, Uruguay and Venezuela).
Abreu made the statement public last June in Brussels when she was part of the Brazilian delegation headed by president Rousseff and which held talks on the much delayed (since 1999) Mercosur/EU trade agreement.
Likewise the manufacturers lobby, National Confederation of Industry, has for a long time been requesting the signing of a trade agreement with the EU, and other potential partners, leaving aside the so called 'strategic patience' displayed by Brazilian policy towards reluctant Argentina, which does not support opening its domestic market.
Something similar has been supported by the main opposition party PSDB, Brazilian Social Democrats, whose two latest presidential candidates, Jose Serra and Aecio Neves, have repeatedly insisted on the need to review the Mercosur terms of association, and if necessary Brazil should advance unilaterally since the consensus clause limits growth and development opportunities for the country.
"This suggestion on Mercosur is going to trigger controversy, since Mercosur has advantages and disadvantages" said Miriam Leitao a much respected political analyst from the O'Globo media network group.
As a new ally for the embattled government, Senator Calheiros 'Agenda Brazil' initiative had a "strong welcome" from president Rousseff, according to sources from the Planalto Palace in Brasilia, particularly ahead of Sunday's demonstration at national level demanding her removal from office.
The Planalto Palace officially announced that it will be receiving Senator Calheiros very soon to assess the 28 measures of the agenda which not only refers to Mercosur but other sensitive issues regarding retirement age, redundancy payment and making the cumbersome bureaucracy 'more agile'.
Aware of the strategic political situation he now enjoys, Senator Calheiros drafted the list of measures and reforms he considers a program "for the Nation", which should help Brazil climb out from stagnation, re-launch the economy and avoid losing its "investment grade" granted by the risk agencies.
In effect, earlier this week Moody's lowered Brazil's standing but not to the point of losing its 'investment grade' and opened a window of hope in the midterm, expecting the Brazilian economy to retake growth, if measures announced or before congress are implemented, even when this is forecasted to happen in the last two of Rousseff's four-year mandate, that is starting in 2017.